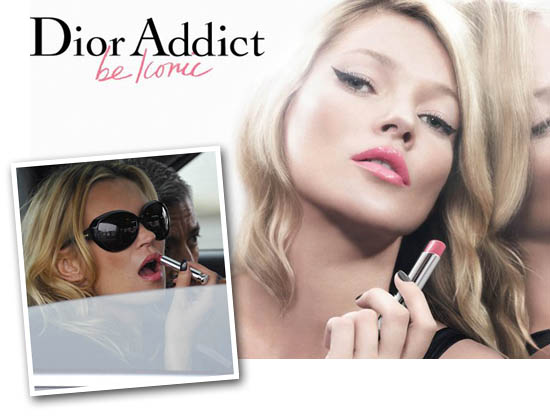 News broke on Twitter yesterday that Kate Moss has just landed a contract to put her pout to work for Dior. That sparked a little memory with me - yep, she'd caused 'controversy' in October for turning up to the brand's Paris fashion week show wearing a Dior Addict lipstick shade.
Not a big deal really, except she was the face of Rimmel at the time.
Yowsa.
Advertised
Fast forward a few months and no one's really too surprised at this announcement. Moss will be used in the campaign images for the brand's summer lineup, and you can check out the visual above. Pretty, eh? But the plot thickens a little and Kate's fashion week faux pas is now looking a lot more set-up than scatty - behind those glasses in the pic on the left, taken last year, she's got exaggerated cat flicks. And oh, is that some dark nail polish too? Now swivel those eyes to the right, and check out the campaign shot ...
Coincidence or not? Did Kate come straight from the shoot to the show? Or is this just a really smart bit of advance planning and marketing? You tell me!
Pix via Daily Mail and StyleBistro.com