 With the (gulp!) festive season fast approaching, it's time to get out your gúnaí Nollaig and get ready to attend boring party after boring party (with the occasional fun night in between). And, God knows, we don't all have enough money to be forking out €100 on a dress every time we have a night out, especially if you're going to have to pay for a taxi, a few drinks, entry into a nightclub (did I just wake up one day and all of a sudden that cost a tenner?!) and a cheeky Burger King on the way home.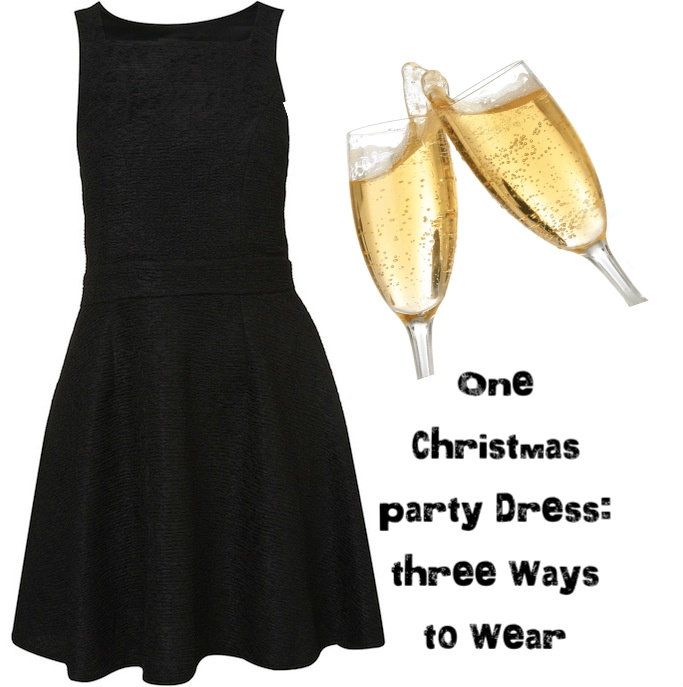 Dress Topshop; Drinks, Anywhere that'll have you

So your best option is to get yourself a dress that you can wear a variety of ways, for a variety of events - from a family Christmas outing (one of my earliest memories is of a walk up Grafton Street to look at Switzers' windows followed by dinner in Eddie Rockets!) to a work Christmas party and even a Christmas-time date or two (if you're not too busy scrapping over whether or not you're getting a real tree).
This dress (£35) from Topshop is a great all-rounder. It's a decent length (not too long, not too short) and it's got a cinched-in waist, which means it's perfect for wearing with a belt. It's got a cut-out detail at the back (which you can see if you click into the link!) and it's high enough at the neck that it won't frighten your boss (or your da).
It's also a decent price - as I said, you don't want to spend €100 on a dress that you're only going to wear at Christmas (although, in this case, I could really see this being worn again, by me anyway!).
So let's talk through a few different scenarios - when you could wear this and what with!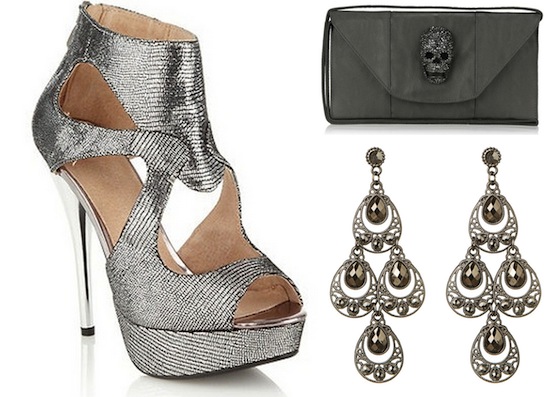 ON A DATE
Dates are the only times when I am concerned with being sexy. When I was a bit younger, a Friday night out with the girls was a cause of real concern - I got the girls out for the girls, if you know what I'm saying. Since I got a bit older and more boring, I only really worry about being sexy when I have someone to be sexy for. Is that an anti-feminist statement?! (Ah, who cares!)
The sexiest thing about this dress is the cut-out back, so I'd keep coverage minimal and let him get a little teaser - loads of men say the lower back is one of the sexiest parts of a woman (sure don't One Direction sing about it in that yawnsome Little Things?). To keep things girly, go for a strappy sandal - these silver heels by Faith are super-sexy and currently reduced to €54.75. They'd go really well with these teardrop earrings from Penneys, which are a steal at €5. And keeps things in the metallic realm with a grey clutch from BeautyCouture.ie (just don't be tempted to scare him with a full-on McQueen-esque box clutch - men do not understand fashion!).
Advertised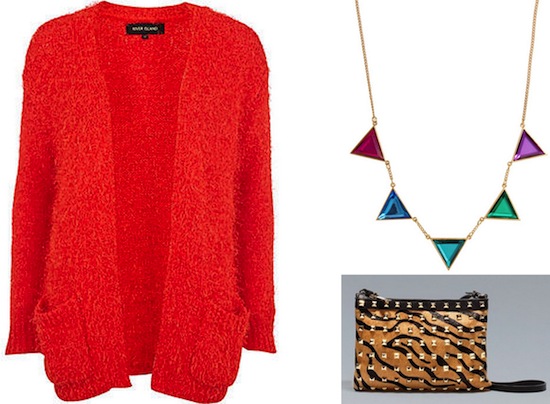 OUT WITH THE GIRLS
My girlfriends appreciate the finer things in fashion, so I like to funk things up a bit when we go out and show off my fashion nous! (In the least showy-offy way possible, I swear!) I'd start off by going a little wild with this animal print studded clutch from Zara. It's a little on the pricey side at €79.95, but it's leather, which always helps me justify ridiculous purchases! I love to mix animal print with colours and statement jewels, so I'd go for a great neckpiece, like this bunting-themed baby from Asos (€13.89). And because that's not all statement-y enough, I'd team it with a pair of ankle boots and this great cardigan from River Island (also £35).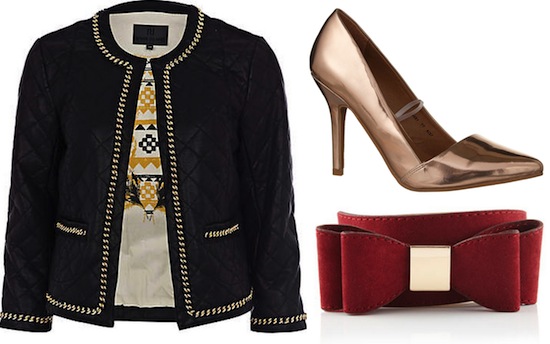 WERKIN' 9 TO 5 (OR LATER!)
Your work Christmas party is possibly the most precarious of all. Get it wrong, and people will remember you for the whole year as "the girl who wore the onesie to the office party". I mean, this may not be a bad thing - some people like onesies. I am making a joke - of course this will be a bad thing. In any case, we've got our dress already, the question is: where do we go from here?
A tailored jacket is a must. Like the Financial Times, a tailored jacket says: business. Try this number from River Island (£65): it's cool and fashion forward, while also being slightly serious and covering up that sexy back detail.
If I were a UK magazine, I would now write something like "that you can choose to reveal to hot Jeffrey from supplies later on in the night if you wish". But I'm not, so I won't.
Advertised
Your shoes, for the office party, need to also mean business - don't go for anything sexy, stripper-adjacent or strappy. Trust me on this one. These courts from Penneys (€15) are cool and office-appropriate, and you'll get good wear out of them going forward, as the marketing folk might say. And the piéce de resistance? This great belt, €14.90 from Accessorize - match it to your lipstick and you're laughing (but please, don't go too glossy - shiny lips are passé, didn't you hear?).
Have you got many nights out planned this season? What are you going to wear? Let me know in the comments!