 Y'know how they say that horizontal stripes make you look bigger? Well, they - whoever "they" are - ain't merely shooting the breeze. Horizontal stripes make you look bigger by creating an illusion of width. The eye is drawn across rather than down the body. So how do you combat this? Easy! Create an illusion of length.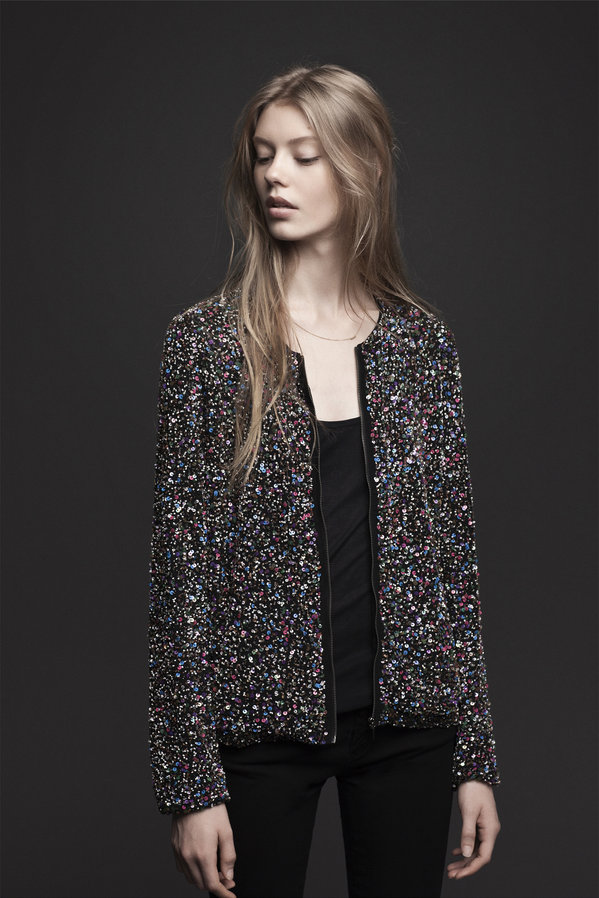 And the easiest way to do this is with a blazer or open jacket - this baby is from Zara's latest TRF range (you know, where the teenage lines with the Hello Kitty-esque prints hide, down the back of the store). See how your eye is drawn down, rather than across, the moddle's body?
Other ways of achieving this effect are - duh! - with vertical stripes, long scarves, long necklaces and panels. Except, y'know, not like the one Britney tried out while filming the X Factor. Tack-o-rama.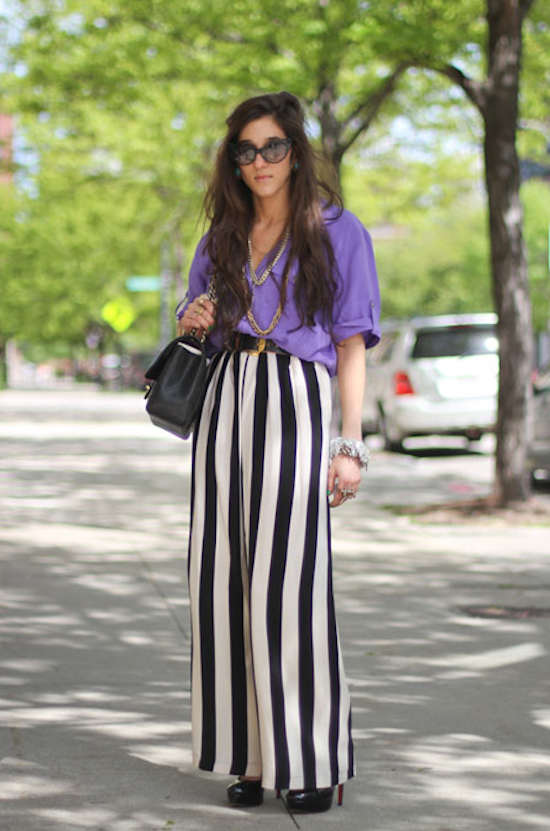 These vertical striped trousers, via Refinery29, won't be to everyone's taste, but see how they (plus the obligatory-for-street-style Louboutins) make Elyse's legs look 10 miles long? You can buy a different take on the trend on Asos, with these amazing sequined Sass & Bide trousers, below (a steal at €410.04).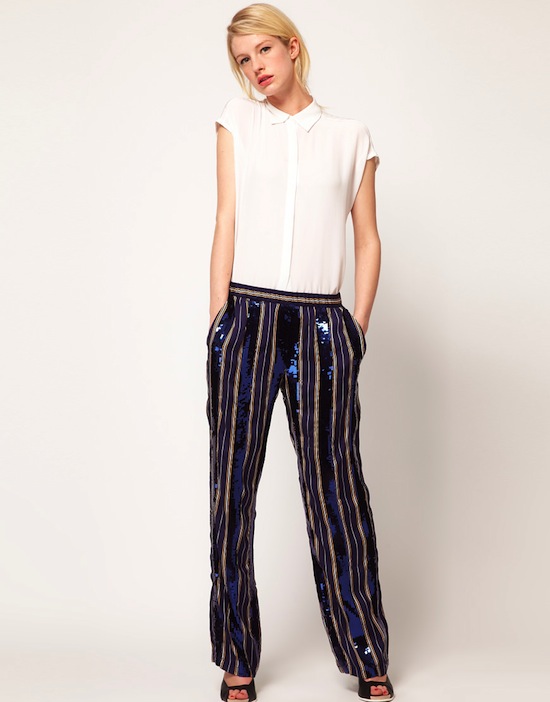 Advertised
If you fancy a long scarf, I spotted this number just last weekend in Zara in Newbridge's WhiteWater Shopping Centre. It's €22.95, a dead ringer for Isabel Marant and available online here. [As a relative aside, I'm a real sucker for scarves in winter time. The fashion gods would have you believe each winter season warrants investment in a new coat, but you can wear the same ol' black coat for weeks if you mix it up with various coloured scarves.]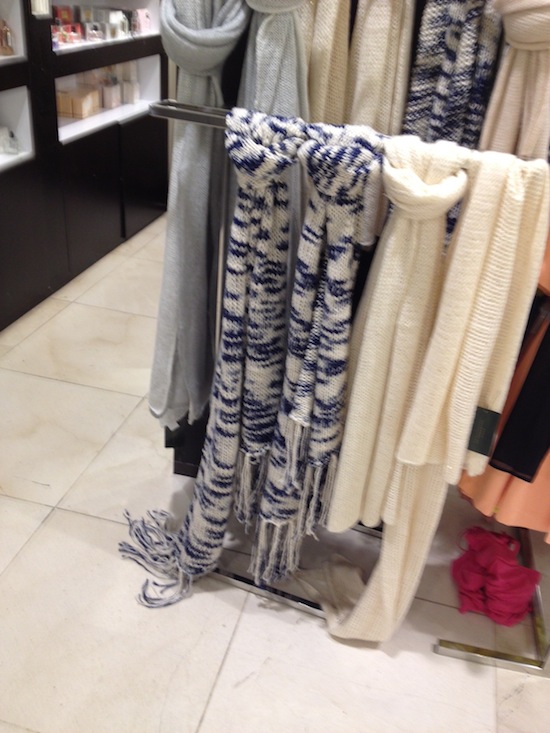 If you fancy trying the aul' side-panel trick - y'know, like that Stella McCartney dress we were all yammering on about last season - check out Warehouse and Oasis, both of which have some really great choices.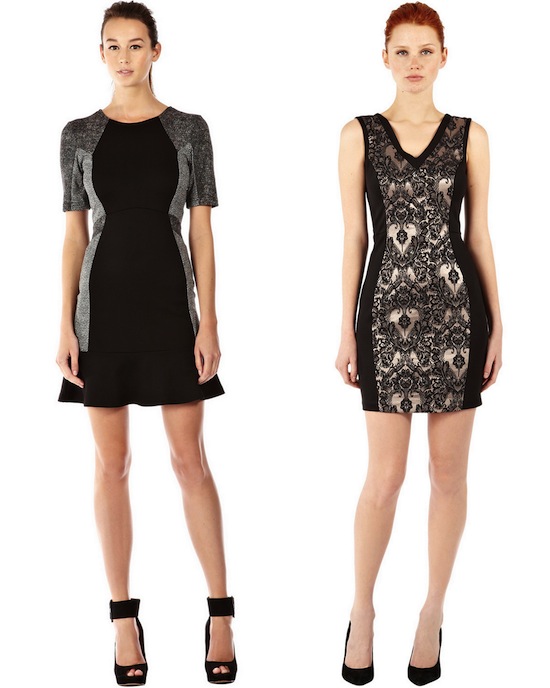 This dress on the left is really cute, super-flattering on most figures (especially on an apple shape as the tapered panels give the illusion of an itty-bitty waist and the black will totally distract from your mid-section) and reduced from €63 to €30. Bargain. Our right-hand dress is a little more on the bodycon side (and one that I, personally, could not pull off) but great if you have a flat tummy and are a little bigger on the hips. It'd also look fab over a black shirt with a pair of black tights for a more formal look.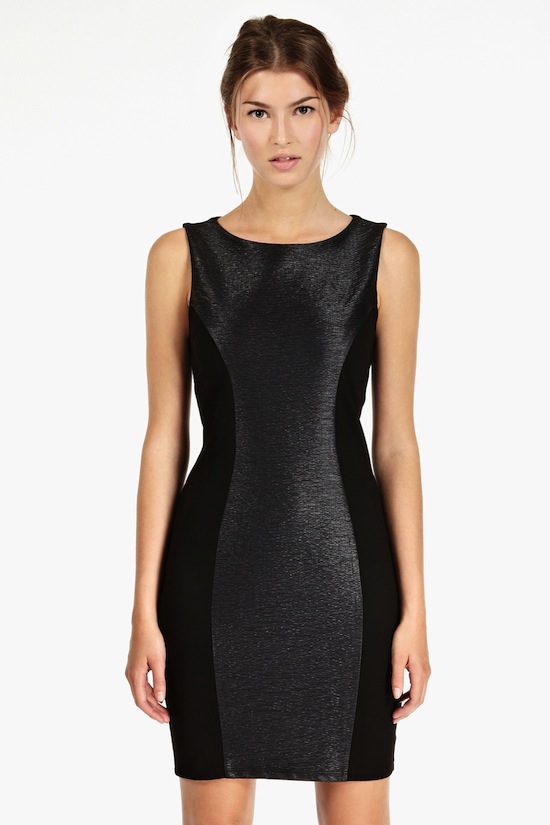 Advertised
This Oasis dress takes the biscuit for me in terms of panelled simplicity - I used it on an Xposé shoot the other day on a woman in her sixties, paired with a peplum jacket, dark tights and ankle boots, and she looked stunning. It's a great dress in the flesh and the crinkle effect really skims over any lumps and bumps. Plus, I'm not too mad at the £50 sterling to €62 exchange. Good work, Oasis!
In short, anything that creates a long vertical line is going to make you look longer and, by proxy, slimmer! If, however, you are the long-n-slim type and want to be the short-n-squat type, check back next week for a special on horizontal stripes, cropped boxy jackets and pedal pushers.