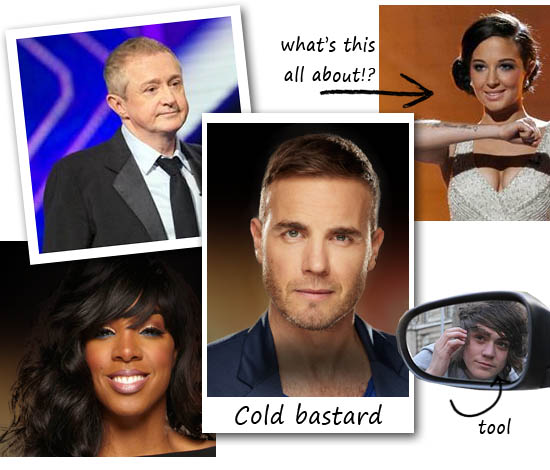 X Factor I think you might be going the same way as Big Brother.
In its heyday everyone was crazy for the most boring show on TV - Big Brother.  The subject of who was being voted out/in, the performance in tasks and all the gossip were probably the most discussed topics in offices for years.  And so it was with the X Factor.  But this year there's a serious lack of interest from what I can gather.
Big Brother stumbled on for a few more years with the Celebrity version: I predict a Celeb X Factor in the next couple of years as Cowell kicks a few more million for himself out of the franchise.
Once evil music mogul genius Simon Cowell departed, depriving us of his big ego and love him/hate him personality that everyone was desperate to impress, it spelled doom for the show.
Advertised
And leaving clearly spells it out that he himself is just so over the UK X Factor.  The ratings have dived and Simon has apparently issued a directive that they must improve by 10% every week from now on.  Eh, how's that going to happen Simon?  Perhaps if there were some decent judges and contests perhaps?
This year's judges are just a shadow of the foursome we were used to. Gary may be a handsome bastard and every woman in the audience may be lusting after him - but he's no Simon in the judging stakes. Kelly Rowland is a goddess - but er kind of an annoying one. All the pretending to cry and having dreams about contestants just ain't working for me. Tulisa seems like a really nice girl - but she's not Cheryl. And Loueee - the only original judge - well he's just Loueee.
And I haven't even started to discuss the contestants.  I'll leave that to you lot!