 This week twenty years ago, the first episode of Sex & The City aired, and Carrie Bradshaw became a style icon for the ages.
Hands up who rewatched SATC and now hates Carrie? You're in the majority. Now buzz off, this is a Carrie Bradshaw Bashing Free Zone.
Maybe she's a 'bad feminist', and maybe she's not a very good friend. Maybe her column was actually a series of badly written tripe? And, seriously, how can a freelance writer living alone in an East Village apartment afford a wardrobe full of designer duds? Who the hell cares? It's fiction! And her wardrobe was fabulous.
Obviously, it's hard to choose twenty Carrie Bradshaw outfits, especially when she wore a different outfit in every scene, practically. Sarah Jessica Parker worked with the now legendary Patricia Field to create Carrie look after Carrie look, all iconic, none forgettable. But because I have other things to do today besides falling into a Carrie-shaped rabbit hole, I'm limiting this wardrobe lookback to twenty outfits for the twentieth anniversary.
I've listed them in no particular order. I just let my memories lead me iconic Carrie outfit as they start to spiral slightly out of control in my mind.
Tutu You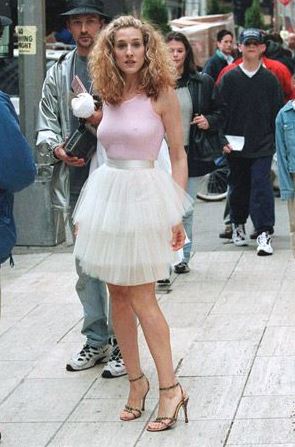 The original. Carrie made every grown woman's dreams come true by dressing as a ballerina in heels in the middle of NYC.
SJP was 33 when the series began and dressed like Carrie for six years. Be like Carrie. Anyone who thinks people should tone down their style as they get older can take a hike.
This is why everyone needs a pair of red shoes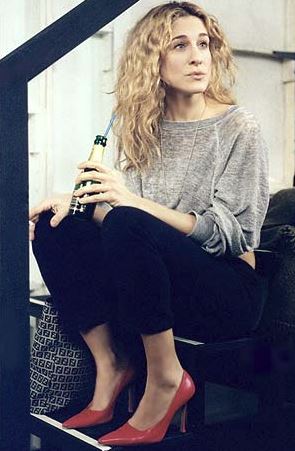 Carrie could make anything look stylish with a few careful tweaks (she knows that fashion is not effortless). How to upstyle a casual grey sweat top and black pants? A long chain and red stilettos, of course.
Fashion Roadkill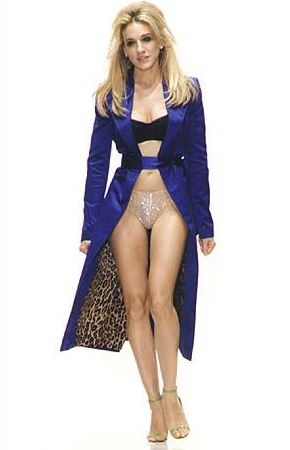 This wasn't the Fashion Show outfit Carrie expected to wear, and it's not the one she would have chosen, so perhaps it's not a true Carrie look? But it's certainly one that everyone remembers.
Extra! Extra!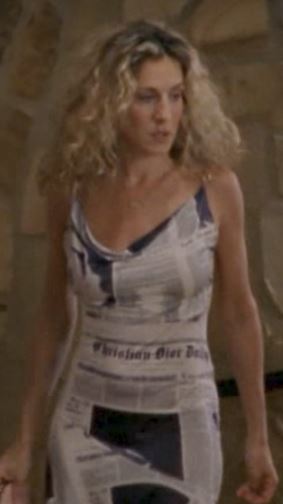 A good still of Carrie in the famous John Galliano Dior Newspaper Dress is surprisingly hard to find, given its 'fashion moment' status. Despite Carrie never wearing an outfit twice in the series, she wore it again in one of those movies. But we'll stop talking about those now, K?
Those pink shoes
Carrie went on her last date with Big in this episode, so wasn't she lucky she wore this outfit? Also, Miranda's waters broke on those fabulous Louboutins.
Look familiar?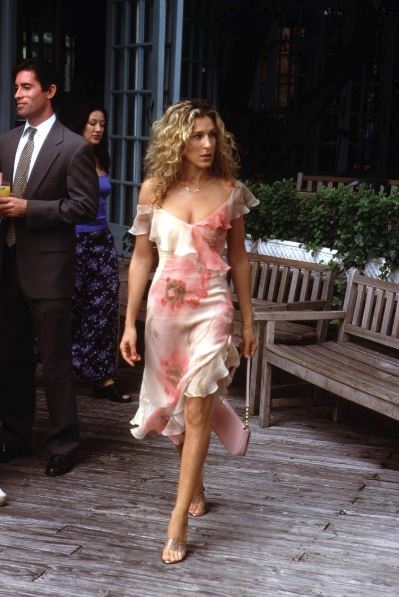 Carrie wore this during the episode three episode when she fell in a lake with Big. If it looks familiar, it's because the style has been a wedding guest staple ever since.
Dog-Walk Afternoon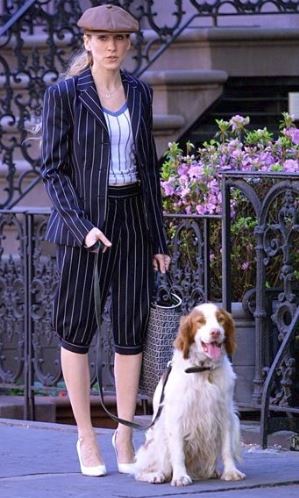 Sure what else kind of gettup would you wear to walk your boyfriend's dog?
Perfect running attire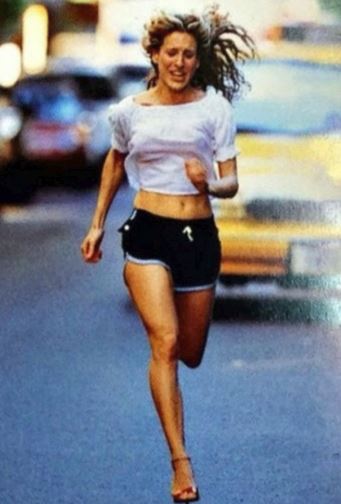 And what else would you wear when you're searching for that dog? Carrie was rocking the fancy shoes with athleisure clothing way before the Kardashians.
Picking up the messages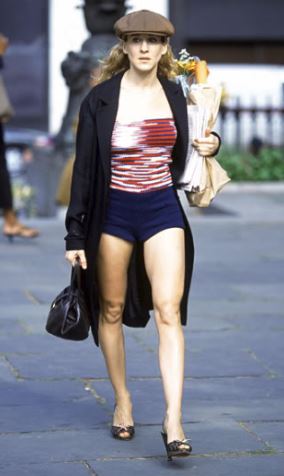 Carrie, in fact, had a wide range of short shorts (although this is a romper) and, as we've seen, at least two newsboy hats. Maybe not her best look, but's it's very Carrie all the same.
LBD
Advertised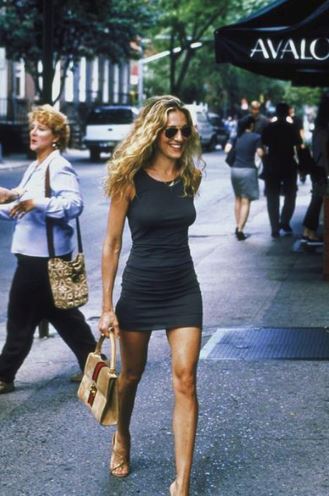 THIS could be her best look. A simple short bodycon dress. Round shades. Statement bag. 'Invisible' heels. And the Carrie necklace. Carrie wore this in 1998, and I would happily wear the exact same ensemble, piece for piece, today.
En Vogue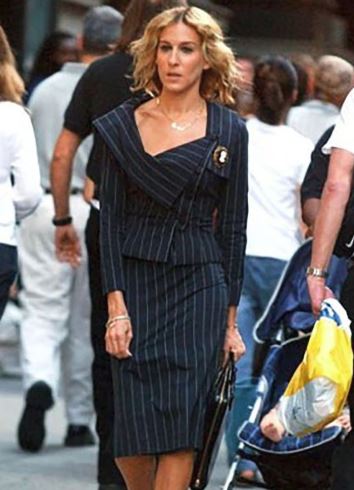 When Carrie went for her meeting in Vogue HQ, she had to dress the part. This is Carrie putting her spin on The Businesswoman. If you're a business kinda gal who doesn't want to look like a drone, think WWCD?
En Paris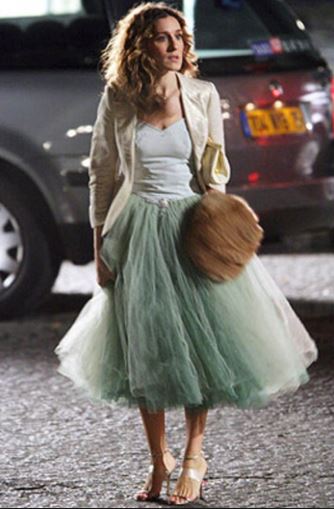 Reflecting her opening credits ballerina garb in the final season, Carrie realised that The Russian was a douche. She always came to important realisations in style.
Helmet Hair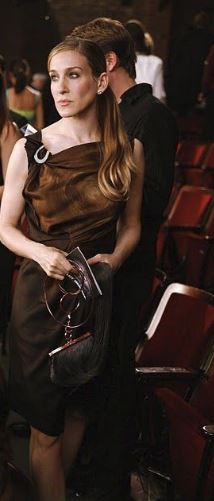 While the Prada dress is grown-up and sophisticated, it's the bag that made this a memorable Carrie affair. Remember its train? This was the season of Berger, and Carrie's long straight hair. Once she put that motorbike helmet on, we should have all known it was over.
The Blushing Wedding Guest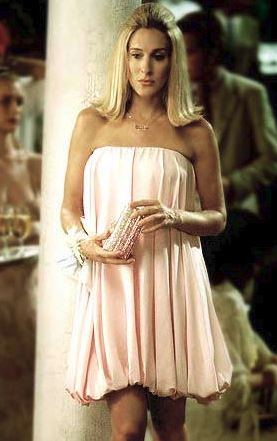 SJP was pregnant filming season five, but Carrie was not. Cue a lot of carefully drapey outfits and hair you couldn't ignore. This was her wedding guest outfit where she behaved like the last person you would want at your wedding. Because of Berger, of course.
Casual Carrie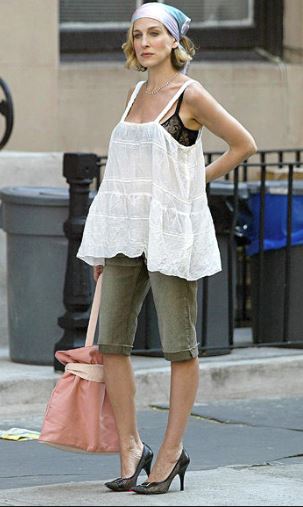 Another Carrie's-not-pregnant outfit, Pat Field put the focus on her lace bra. I hate it, but that outfit would not have been complete without the tie-dye bandana.
Crop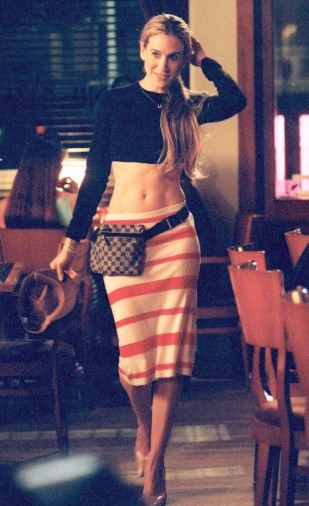 Back to her Carrie's straight hair days, she bared her mid-riff for crashing Aidan's 'boys night' (when he was actually flirting up a storm with the hot barkeep). No one could wear crop-tops like Carrie could. Or side-placed bumbags.
Smokin'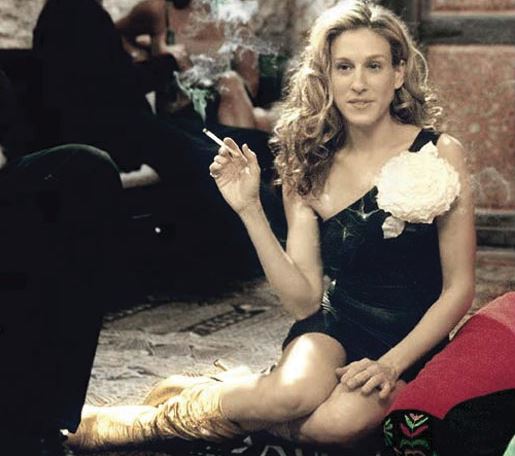 This started Carrie's flower pin trend, although her most iconic accessory was that Marlboro Light.
Smokin' at the... icerink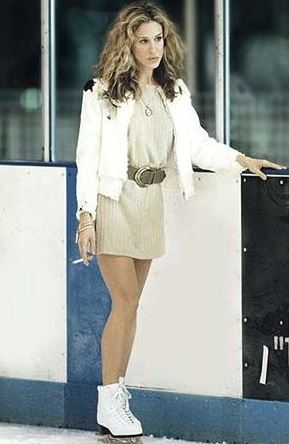 If that's a look of someone who needs a cigarette STAT, I don't know what is.
Just threw it together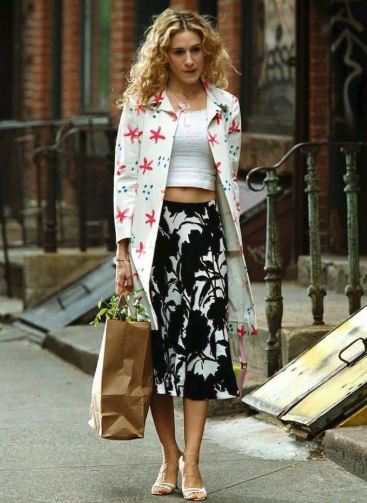 Carrie has fewer multi-patterned looks than you might think. The outfits she wore in the movies were more like these, but she was being dressed 'as Carrie' rather than being dressed for the episode back in the TV days. SORRY! I said we were going to ignore those abominations.
Classic Carrie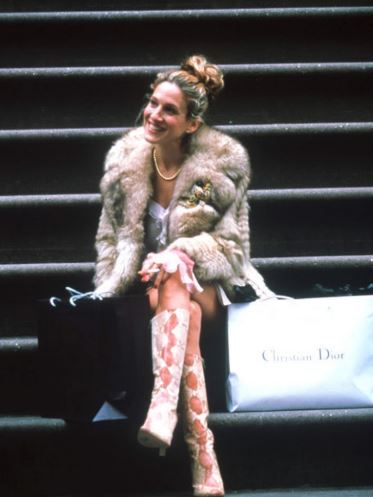 Carrie wore a lot of fur in the early days. Vintage, so it's ok, ok? You can't see it, but under the coat was a shirt and skirt combo. With those snakeskin boots and pearls, she was living her very best Carrie life.
Advertised
Thanks for the memories, thanks for the infinite inspiration.
What was your favourite Carrie Bradshaw outfit?