 If planning what to wear for Christmas Eve drinks, St. Stephen's Day shenanigans or New Year celebrations has been driving you spare, we're here to help. We've discovered this dress in H&M that is perfect for Christmassy occasions.
The fact that you could wear this to work and then go on to cocktails is not even the best thing about the dress. The best thing is the cut: it is so flattering. On everyone.
That knot detail will give the illusion of curves on more athletic figures, and it will complement curves if you've already got them. It will draw attention away from any unwanted lumps and bumps, and the asymmetric hemline makes it not to short or not too long. Your legs will look amazing. The texture is velvet look, which is the material of the season, and the long sleeves will keep you toasty. It also comes in silver.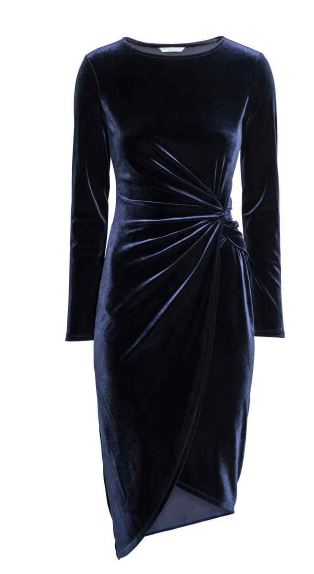 Advertised
Actually, I lie. The best thing about this dress is that it costs only €29.99 in H&M. Get it now, but call your friends if you plan on wearing it out. They'll probably have the same idea.