 When you have Christmas events to go to practically every night of the year, you will need a few party outfits to wear on rotation.
Christmas is one of those times of year when you've got so much to do but there really is no time to do it all. The phrase 'slow as Christmas' really needs to be reconsidered. (Slow as Monday? Slow as a wedding mass?) As soon as Halloween is over, Christmas comes a-knockin' and it's all anyone can think about or make plans around. From this weekend on, we will be in full-on Christmas mode - and we'll need to be sartorially prepared.
We've already started the preparations. We found a pair of trousers (that only cost €9.99) that you can wear every day of the festive season if you please. We found knee-high boots that have only a slight heel that you can also wear constantly. We've found the outfit you can wear to your work party - and also to actual work that day. So now, for even less hassle, we've compiled three party outfits that you can have hanging on the back of your door to be used in rotation this Christmas.
Outfit One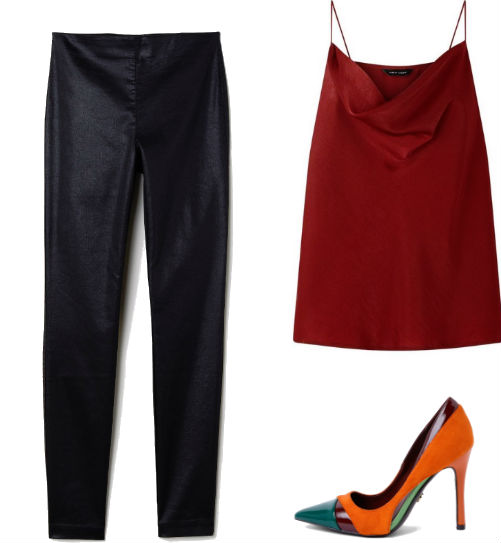 H&M Black Coated Treggings €9.99 / New Look Burgundy Satin Cowl Neck Cami €14.99 / River Island Orange Colour Block Court Shoes €55
It's pretty much a 'jeans and a nice top' look, except the trousers are black and coated and the shoes are unexpected. Although the heels have a base colour of orange, look closer and see that there's a hint of burgundy, too - the same colour of the top.
Outfit Two
Advertised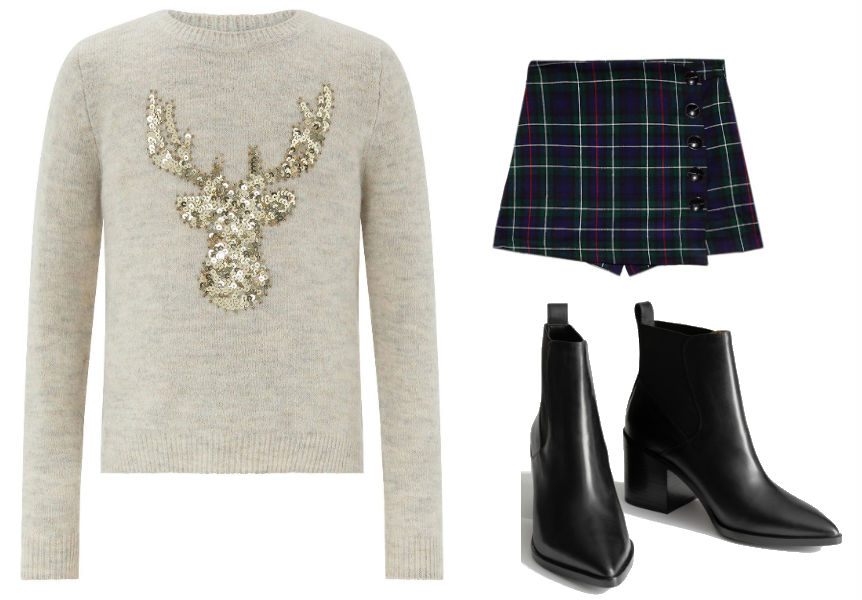 Monsoon Dasha Reindeer Jumper €38 / Stradivarius Skort with Buttons €19.99 /
For your more casual affair, wear this Christmas jumper that's not really a 'Christmas jumper',  a Cher from Clueless skirt and some sturdy ankle boots. Go bare-legged if you're brave, otherwise, whack on your black opaques and off you go. We would wear something like this for an impromptu Christmas pub day.
Outfit 3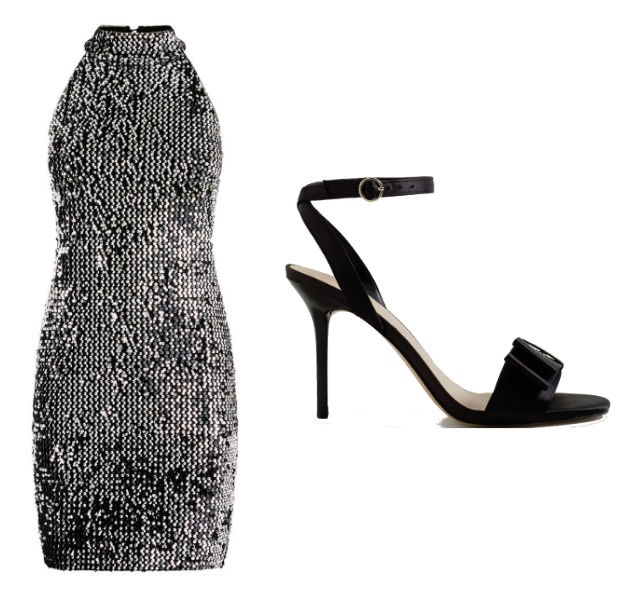 Oasis Sequin Velvet Dress €64 / Mango Bow Satin Sandals €35.99
Well, you've got to have some glitz at Christmastime! Luckily, when your gúna features sequins you can let it do the hard work. No need for accessories or adding anything extra. If you want to casual it up, though, swap those incredibly handy Mango heels with flat chunky boots and throw on an oversized cardigan.
Advertised
How many social engagements have you got this Christmas?