 The It Dress of Christmas 2018 is totally Instagrammable, universally flattering and - most importantly - very festive.
This dress is all kinds of juxtapositions. It's classy, but it sparkles. It's classic but also thoroughly modern. You have to be a little bit daring to pull it off - but shy girls will love it, too.
I first came across it on stylist Clémentine MacNeice's Instagram page. It's a mini dress in the tuxedo style, but instead of being black with satin lapels, it's covered in sequins. Clementine wore the silver version, but my magpie eye is drawn to the gold. It's festive, glamorous but also very cool.
My favourite thing about a dress like this is that it can speak entirely for itself. This means minimal shoes; I like Clémentine's black sock boots, but I would probably go for a naked heel, although it will depend on the occasion. To style, I would put my hair in a top-knot, add some long but minimalist earrings - and that would be it!
Advertised
Zara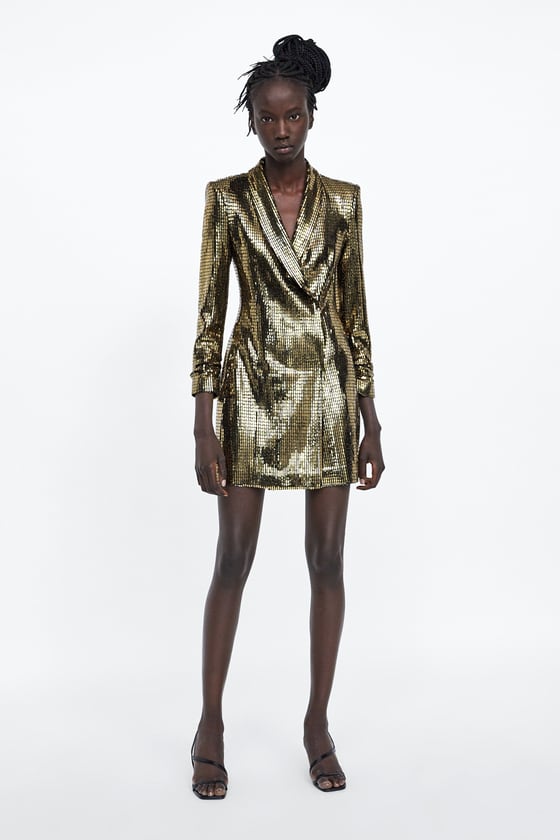 It is a showstopper, alright, but it is something you could wear a few different times, with a couple of styling tweaks. Wear it to your office Christmas party, maybe, with black tights and boots. Wear over jeans and with court shoes, for your Christmas Eve drinks.
Are you into it? Would you wear a dress that kinda looks like a jacket out and about at Christmastime? Do you think something like this is better off left for New Year's Eve?