 Choosing swimwear can be stressful. No matter what your body shape, most women will admit to feeling a little self-conscious stepping into a swimsuit
 

for the first time this year.

But swimwear doesn't have to be a nightmare! There are so many options for all body shapes and sizes.

You just have to find the one that suits you. And, fear not we have everything you need to help you do that!

Whether you have small boobs, big boobs, a round tummy, a boyish frame, an apple-shape, a pear-shape or an hourglass figure there is a swimwear piece to suit you and even more importantly make you feel fabulous.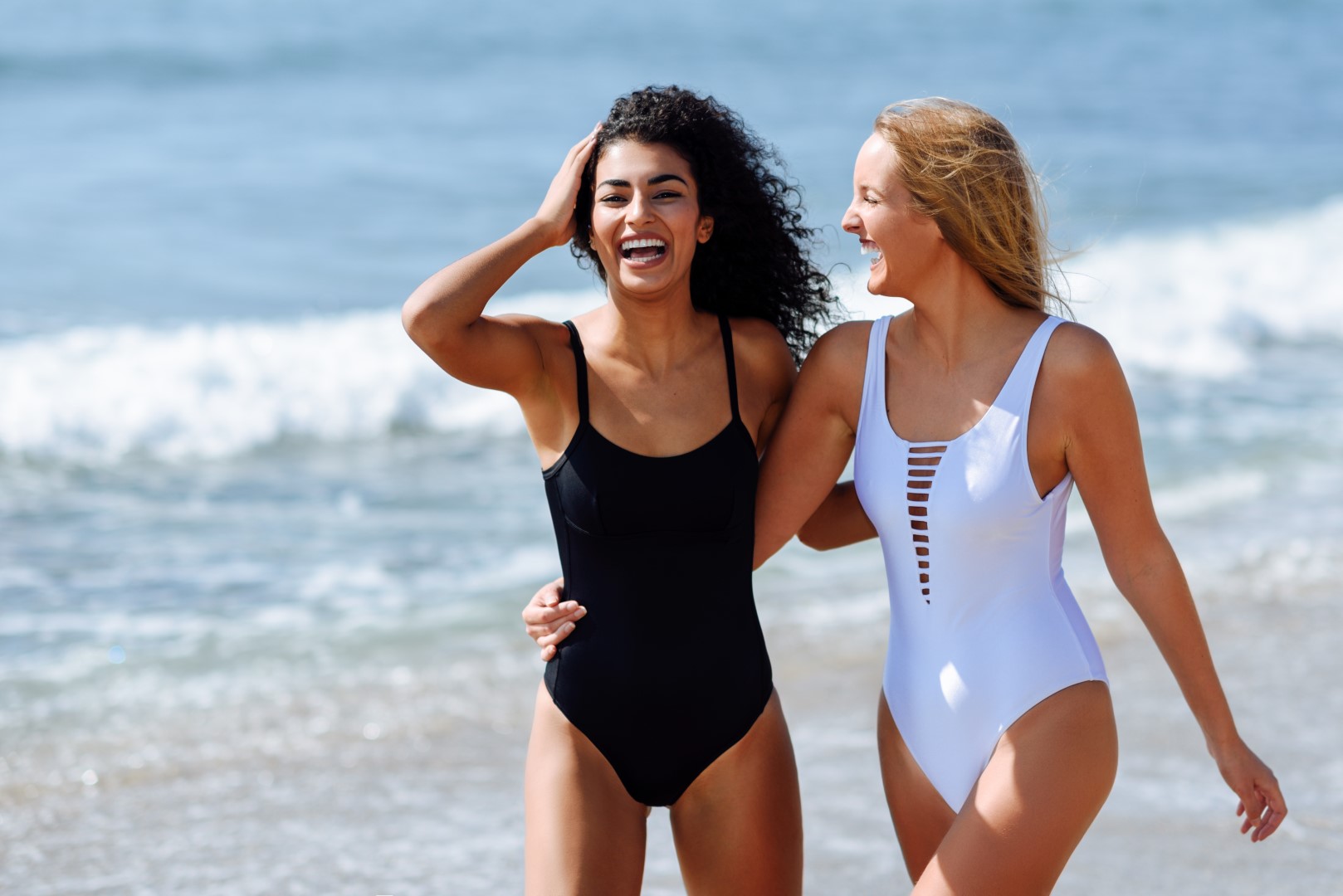 Here are some common body shapes and swimwear to suit:
Small Boobs
Finding a bikini that you feel comfortable in can be challenging for a woman with small boobs. (Yes I am speaking from experience).
The best bet with small boobs is to get a bikini top with ruffles to give the illusion of bigger boobs. You could also go for a bikini with extra padding to fake it a little too!
Bigger Boobs
When dealing with a bigger bust coverage is super important. It can really help to go up a cup size as bikinis can tend to be a little smaller!
The best balance is something that shows off your beautiful shape without being too tight or creating any bulges that may leave you feeling uncomfortable.
Deep V-neck swimwear can be very flattering and give good cleavage.
If you are going for a bikini, I would suggest one with thicker straps for more support, as well as underwire for extra support.
Halter necks can be really great for a heavy bust but also bring thick strapped shoulder straps too so you can alternate between them and give your neck a rest.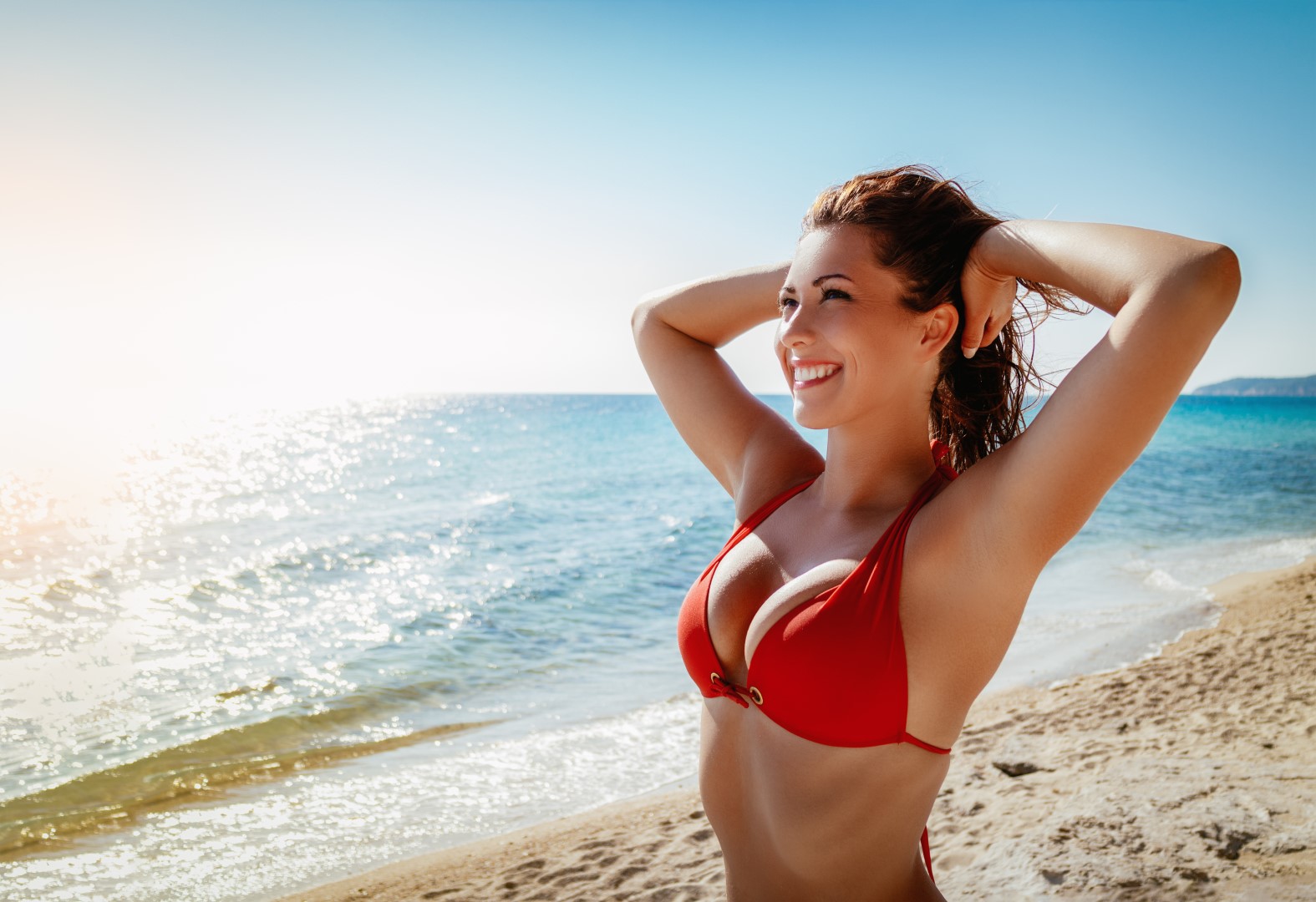 Round Tummy
Advertised
The classic is a great shout if you're looking for some coverage over your tummy.
You can bring attention away from your tummy with some embellishment on the top or design down the side.
There are some great options with a control panel for some extra support like control panels or bones.
If you want a little more than coverage than that try a sheer kaftan in a bold coloured print.
Especially useful if you want to hide your wibbly bits but have got great legs. The most important part is that you feel your best.
Apple Shape
Apple shapes tend to have perfect legs with balanced shoulders and waist; a full bust and a round tummy.
Highlight your legs with high cut bikini bottoms and high waisted tum shapers.
Tankinis are a great option for hiding muffin tops or untoned tummies. Dark colours with no pattern can create a slim silhouette.
Boyish Frame
The goal with this kind of body type is to give the illusion of more curves.
This can easily be achieved with ruffles and padding with some patterns.
Halter necks can also work great for smaller boobs as well as larger.
Even the smallest of boobs can have great cleavage.
Big Bums
If you are a 'Kim K' and have a big beautiful bum, string tied bikinis and high cut swimsuits can leave you feeling uncomfortable and showing a little more than you bargained for.
Advertised
You should look for swimwear with solid bottoms with lots of material so you are not constantly pulling and fixing them.
Tops with a design will also help balance out a big bum.