 2020 has been the year of the unexpected - and that goes for its beauty trends too. The upheaval of our regular routines has meant we can break out of bad beauty habits and try some new ones. Find out what 2020 beauty trends are here to stay.
Chances are, your beauty choices this year will have changed drastically from 2019. Whether that means watching your makeup bag gather dust or embracing 'at home' beauty treatments, 2020 beauty trends have been full of surprises. Lipstick sales have dropped dramatically as face masks have become a part of daily life. The frequent closures of beauty salons have also meant nail varnish sales soared. Using research from our survey of real Beaut readers, we have picked the beauty trends of 2020 we will definitely be carrying on in future.
1. Natural makeup
As the office turned into our house and nights out turned into, well, our house, the desire for heavy makeup has lessened. A simple concealer or blush for the morning Zoom call, or even nothing at all, has been the way to go. The perks of these 2020 beauty trends are obvious: more time in bed in the mornings, your skin has the chance to breathe, and fewer breakouts. Yes, we all miss the feeling of looking glam. But 2020 has reunited us with our natural faces, and that can only be a good thing.
2. DIY skincare
According to our recent survey, 4 out of 5 Beaut readers now do DIY treatments. This could be anything from dying your own hair to waxing. Most of these people have started this over the past year, and 75% intend to carry them on post Covid. We were particularly loving people's 'at home' skincare recipes: face masks made out of oats and fruit juice as well as a face scrub made from sugar.
3. Sustainable beauty brands
Our awareness of our climate footprint continues to increase, and this has been reflected in the 2020 beauty brands we've chosen. Estée Lauder announced a new recycled packaging scheme and L'Oreal announced plans to have completely sustainable packaging by 2025. These are just some examples of huge steps big beauty brands are taking to help the planet. There are also countless sustainable beauty brands to choose from that are dedicated to producing as little waste as possible. Only a few short years ago, finding sustainable beauty products was so difficult, soon it will be the norm.
4. Less frequent hair washes
Another surprising benefit of our home-centric lifestyles has been giving our hair a break. Daily washes, heat treatment and product overuse had left many of us with dry, damaged or greasy hair. Ignoring shampoo for days at a time has given our hair a chance to repair itself, and get used to less product. This not only saves money but also the amount of plastic bottles we are using. This means it's one of the 2020 beauty trends that will benefit us for years to come.
Advertised
5. Bright eyeliner
With lipstick being less popular, it only makes sense that people make up for it by putting more colour on their eyes. Bright eyeliner has been one of the 2020 beauty trends to offer some easy glam into our lives. Whether that be liquid, gel or pencil there is plenty to choose from. It doesn't always have to be bright colours, white eyeliner is a great way to make your eyes pop whilst keeping things monochrome. Our favourite bright eyeliner products are Vivid Brights Liner from NYX, Urban Decay's 24/7 Glide On Eye Pencil, and Sephora's Colourful Shadow & Liner.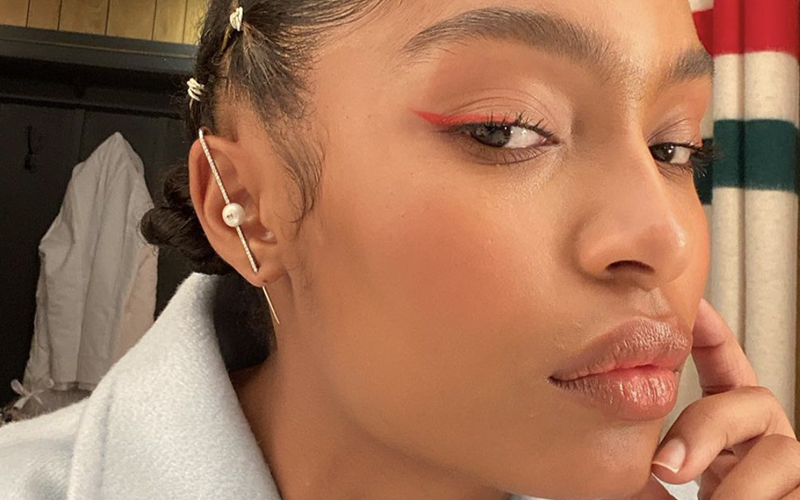 6. Experimental makeup
According to our Beaut reader research, only 55% of you feel confident about putting on makeup. 2020 has given us a lot more time on our hands, giving beauty lovers more opportunity to try new things and perfect technique: the looks you've been wanting to experiment with but weren't confident enough to show off to the world just yet. Exaggerated eye shapes, brightly coloured mascara and contrasting eyeshadow are some of the experimental looks we are loving on Instagram right now.
7. Laminated brows
Full, dramatic eyebrows are here to stay, so laminated brows are an excellent alternative to microblading that has grown in popularity in 2020. How do they work? Essentially, they are a temporary eyebrow lift. A setting lotion (amongst other products) keeps your eyebrow hairs pushed up and in place for up to eight weeks. It's an easy way to create the illusion of lots of hair growth, even if you don't have thick brows. Also, it's a great way to freshen up your look without committing to something long term. The treatment is popular with familiar faces from Love Island, and we predict we're going to be seeing a lot more of it in 2021.
8. Supporting Irish brands
With so many shops and companies struggling to make ends meet, #supportlocal has been a key trend this year. Beauty shoppers have also been making a conscious effort to support Irish brands during these trying times, making it one of our favourite 2020 beauty trends. With so many great Irish beauty brands to choose from, this has not been difficult. Kinvara Skincare, a Galway based company that make a variety of vegan and cruelty-free skincare products. Nima makeup brushes from Niamh Martin provide high quality brushes for a reasonable price. We cannot forget big name Irish cosmetics brand Carter Beauty by Marissa Carter too, which has an impressive range of makeup bag staples.
Advertised