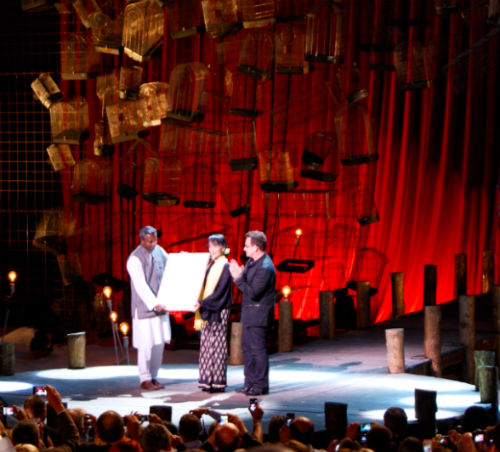 When I was but a young, idealistic teenager, I was a passionate supporter of human rights causes, furiously writing letters on behalf of prisoners of conscience around the world. Around that time, I became aware of Aung San Suu Kyi and her quiet dignity in the struggle for democracy in Burma.
So you can imagine my excitement when I learned that Daw Aung San Suu Kyi - known to many as simply, The Lady - was due to visit Ireland on Monday during her worldwide tour. I immediately informed the other half that we would both be attending this historic event, and got to frantically refreshing the Ticketmaster website page like a woman obsessed.
It's the Nobel Laureate's first time to travel outside of Burma since 1989 when she was placed under house arrest by the country's military regime.
Aung San Suu Kyi is a truly remarkable human being.
In Dublin's Grand Canal Theatre, during an impressive concert of music, performance and spoken word, she was presented with the Amnesty International Ambassador of Conscience Award, which she was awarded in 2009. It was a day of real occasion, and while waiting for everything to kick off, we were busy nudging each other and pointing out famous faces.
Afterwards, she attended an outdoor civic ceremony on the square at Grand Canal Dock - with more music and celebration - where she was presented with the Freedom of the City of Dublin - an honour which was given to her in 1999.
Advertised
At both events, she was incredibly accessible and available to everyone who spoke to her. In the Theatre, she sat in one of the rows, among everyone else in the audience. I've no idea how she has the patience and strength to keep up the relentless pace of meets 'n' greets, but there she was, utterly gracious.
Oh, and for anyone who groaned at the idea of Bono muscling in on proceedings, never fear: Bob Geldof got a few nice digs in from the stage. Sir Bob comiserated with The Lady having to spend her entire visit with Bono, and suggested that if it all got too much that the oppressive Burmese regime were just a phone call away.
On Monday, on the eve of her 67th birthday, she was finally, in person able to receive the awards.
She gave a brief speech at each of the ceremonies:
Advertised