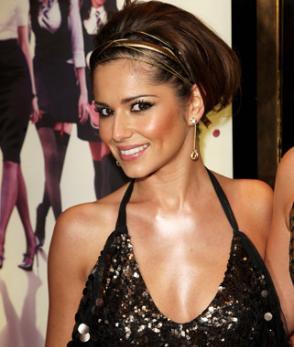 Ah, she's come a long way from thumping toilet attendants and wearing an indecently revealing dress on her wedding day. Cheryl Cole is now busy making a name for herself as The Nice Judge on X Factor, and I for one am glued to the proceedings - as much to catch what herself and Danni Minogue are wearing and how they're made up and coiffed as to see the acts perform. Cheryl and her hairdresser have been working big hair since the early audition stages, and are bang on trend - big hair was big news at the AW '08 shows, with everyone from Derek Lam to Christian Dior to Michael Kors to Sass & Bide sending models down the runway with mahoosive bouffants.
Sleek, groomed, clean-looking bouffants, now: none of your unwashed Wino beehives here.
Tapping into this big hair thing requires lots and lots of backcombing and having entire cans of hairspray to hand, but it's pretty easy to DIY. The 'do our Cheryl was sporting on last Saturday's show is probably the easiest version to recreate at home, but don't make life difficult for yourself by copying it outright and trying to get the ends tucked underneath the back at the nape of your neck. Instead, work the look as glam ponytail with a multi-strand hairband to add interest at the front and avoid looking a bit too retro. Backcomb from hairline to crown using a fine-tooth comb, and then use the teeth of the comb to gently smooth the top of the your newly-created height without flattening it. Gather the ends into a high ponytail and secure with something like Blax's practically blinvisible bobbins. Multi-strand hairbands are all over the place at the minute; metallic versions are particularly prevelant and I've spotted them in the likes of Accessorize, Oasis, and River Island.
Advertised
Fix your lovely new updo with hairspray - the last thing you want is to have to throw in a load of dirty great brown grips to try and keep stray strands of the gruaig out of your eyes!