 "You smell lovely" said a taxi man to me "What's that perfume? Might get some for the missus for Christmas". I was momentarily confused. A) from the unexpected compliment from an unlikely taximan based source and B) was I even wearing perfume?
No I wasn't. But I worked it out after a few similar comments and traced it back to that morning's trial run of this Aussie conditioning spray – it smells really delicious. But more of that in a bit.
Always partial to anything – anything! - that might promise some hope for my frazzled gruaig, I seized upon Aussie Miracle Recharge Leave In Conditioners (€5.79) with great interest . With eight types of conditioner in the suite (colour, shine, frizz etc), the only one I've taken to my bosom is Moisture (blue label) with macadamia nut oil.
A quick scan of the ingredients revealed no silicones which is not usually good news for my hair (it's a hoor for the silicones) – but surprisingly I was to find that it didn't matter and was actually a plus point.
While these are billed as leave in conditioners I wouldn't use them instead of conditioner: they're way too lightweight for that if you've got dry hair (but might work well if your hair is oily with dry ends). Instead use them as a prestyling aid on wet hair, or as a top up between washes to keep your hair from cracking and shattering into a zillion pieces.
Advertised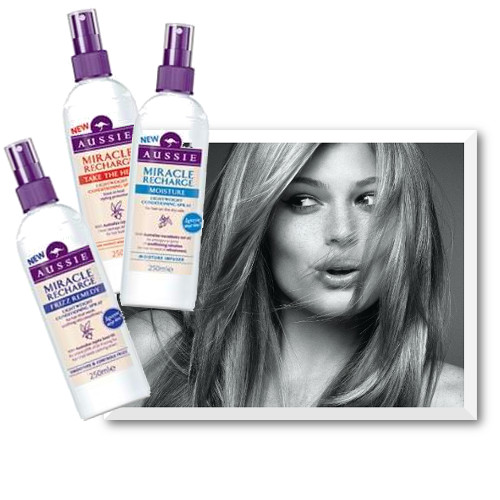 The presence of silicones would probably have prevented me from using this as much as I did – overuse causes the hair to become dull and greasy looking. But with this stuff I could blast my hair a couple of times a day and reduce radiator frazzle. A quick squirt into dry ends and the underneath of hair (always the most horrible frizzy bit) really did work to smooth it all down.
My only gripe? The spritz mechanism tends to splat the product out in one area and doesn't distribute the conditioner evenly through the hair.
But of course the clincher was the smell. Aussie products always smell incredible – fresh, fruity and mouth wateringly delicious. Fuhgeddit all about it Herbal Essences – Aussie have the original orgasm in the shower experience all wrapped up. Top notes of Hubba Bubba and kids bubblegum settles down so that the smell is not overpoweringly sweet. I've, er, been using it as a room spray and a fabric freshener. A quick squirt on some cushions did the job better than Febreeze and led people to remark on the beautiful scent in the room. I laughed a laugh of pure evil to myself.
Have you been trying out this range? What did you make of it?