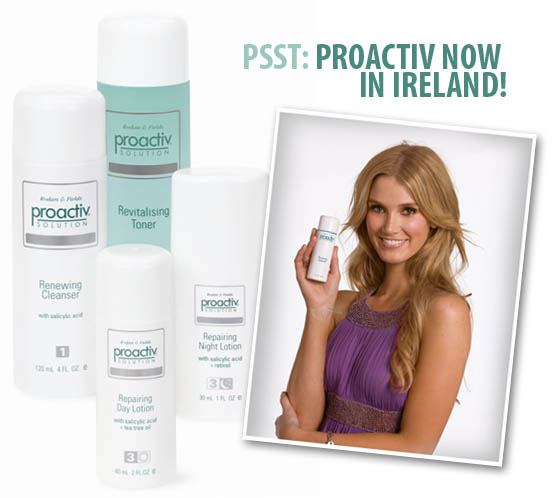 Yup, you read that right. We've just got word that Proactiv, a huge US success thanks to its infomercial selling technique, celebrity faces and zit-zapping powers, is coming to Ireland. It was previously only available to us through mail order in the UK, and I know some of you love the system - reader ML gave it a firm thumbs up as far back as 2007, but the even better news is the brand will launch in Arnotts this week. Yup! More details on that are after the cut, but first, lets take a look at what this stuff can do, eh?
Designed for those with spot-prone skin, Proactiv is particularly suitable for teenagers but certainly not limited to them - there's a three-step kit that's designed to prevent spots from forming in the first place, and any adult laydee with blemish-prone skin'll appreciate that. Handily for Irish audiences, there's an appropriate celeb tie-in too: ex-Westlifer Brian McFadden's missis Delta Goodrem is the current face of the brand. A spot sufferer herself, she reckons the products helped her on the road to clear skin.
So, all that considered, it's got to be pricey, eh? Well - not really. The range is quite small which is good - no millions of things to choose from - and while teenagers may find themselves stretched, but the rest of us'll find the cost ok, I think. The three step kit contains a cleanser, toner and a moisturiser for both day and night, and it costs €49.80. There's also Daily Oil Control, €14.95,  Oil-Free Moisture with SPF 15, €19.90, and a Refining Mask  for  €14.95.
Advertised
If you're in the Dublin area and want to find out a little more about the brand and what it can do, then you're quids in. Arnotts are hosting a two day event in-store at the Henry Street branch this Friday 5th and Saturday 6th, from 11-4pm.
A top dermatologist, problem skin sufferers and a treatment expert will be on hand at the store to talk to you about your skin concerns, give advice on treatments and lifestyle tips and, whayhey - spill the beans on celebrities with problem skin who use Praoctiv!
Psst: check the blog tomorrow too, we *may* have a giveaway going on ...