 Following my laser eye surgery, I've become borderline obsessed by my eye area. Sure, the dark circles are kind of a nuisance and the fine lines are less than ideal, but at least I always knew they were there. Discovering that I had tear troughs, though, came as a bit of a surprise. They're those pesky sunken areas that run below the eye from the inner corner along the orbital bone and I'd never even bloody noticed them before because they'd always been hidden by my glasses. And sure when I had my glasses off, I was blind as a bat wearing a sleep mask so I was blissfully unaware of their existence.
Noticing tear troughs; not being able to see your significant other in focus up close; developing a deep-seated desire to amass a huge sunglasses collection: these are the things no-one tells you about pre-surgery, y'know? They should bring out a patient leaflet that covers that shizz.
The basic premise is that two different products are required, one to deal with the dark circles which usually go hand in hand with tear troughs, and then one to help visually bring out those sunken areas.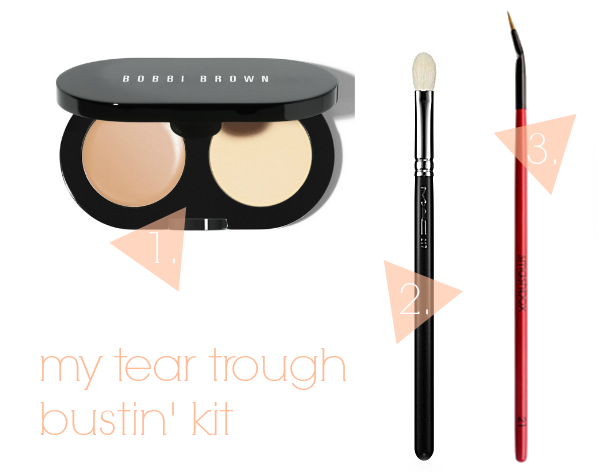 1. Bobbi Brown Creamy Concealer Kit // 2. MAC 217 Blending Brush // 3. Smashbox Arced Eyeliner Brush 21
ONE
Begin with a peach- or salmon-coloured corrector to precision correct dark circles. I like Bobbi Brown Creamy Corrector in Light Bisque, which I apply sparingly either tapping in with fingertips or using a soft MAC 217 brush just to my problem dark areas, which are concentrated at the inner corners of my eyes.
Advertised
TWO
Next, apply a small amount of a light shade of concealer along the deepest part of the tear trough crease. Again, it's important to be precise: applying to the surrounding skin won't help with the look of tear troughs and can make the eye area look puffy.
THREE
To figure out where the concealer should go, try looking down into a mirror in natural light initially – you should then be able to see the shadowy line that the slight bag above the tear trough creates.  I use my small-headed Smashbox angled eyeliner brush to dot Bobbi Brown Creamy Concealer in Porcelain judiciously along this shadow, then tap in with fingertips or my MAC 217.
It took me a while after my op to figure out how best to disguise them, but after trawling Internet forums I think I've finally cracked it.  Check out this video by Wayne Goss for more advice.
I can honestly say it's one of the best make-up tips I've ever picked up, making me look instantly less wrecked, and while it does take a little time to master the exact placement of the products to achieve the effect I could now do it in my sleep in about 30 seconds flat.
If you're at all concerned about tear troughs, definitely give it a whirl.
Advertised
Read more concealer tips here , the concealers you rate and dark circle tips and reviews here.