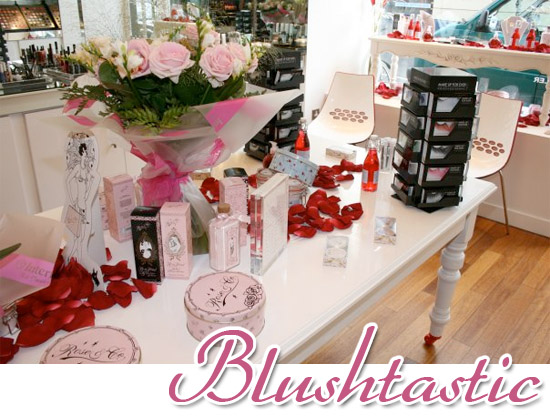 While Aphrodite was busy being kneaded and pummelled (in a good way, like) at the G Hotel's spa on Saturday afternoon, I took myself off to Galway city centre for some Blog Awards prep of a different sort. For the night that was in it, I thought I  might as well go all out and get the slap applied by a pro.
So it was off to Blush Make-Up Boutique where I put myself in the hands of owner and make-up artist Elaine Flaherty. As a bit of a control freak and a virgin where letting having a professional put on my make-up was concerned, I was actually pretty nervous about the whole operation.
I calmed down a bit when I told Elaine what I'd be wearing (stripy dress, red heels) and she didn't suggest scarlet lipstick. Instead, she recommended playing up the eyes with a retro smokey navy eye complete with false eyelashes and lashings of winged black eyeliner, a Make-Up Forever liquid base that would give really good coverage but have a dewy finish, and lots of contouring, topped with a pinky cream blusher and nude lips.
Now, I would be fibbing if I told you that I gasped at my newly imparted gorgeousness when Elaine finished her work. Yes, the false eyelashes looked uhmazing. And the flicky outy eyeliner was fab. But to be totally honest, I really wasn't sure about the rest of it. It all just looked a bit, well, dark and overly dramatic (and not in a good way).
Advertised
Sensing that I wasn't convinced, Elaine brought me away from the artificial lights of the make-up area and down to the front of the shop to have a look at the slap in natural light, and it was like a totally different person was looking back at me from the mirror. The eyes were still very full-on looking in the daylight, but totally appropriate and gorgeous for night-time.
Ultimately, everything stayed put for the whole night and the only thing I changed up a bit were the lips. I had a new tube of Rimmel's Coral Queen burning a hole in my pocket so I decided to go with it, safe in the knowledge that I could revert to nude if it was awful since Elaine had given me a little sample pot with some of the Krush Minerals gloss she used to take away.
Not bad for a control freak ...
Blush Make-Up Boutique, 2 Lower Cross Street, Galway, 091 895 841; www.blushmakeupboutique.com