 With my wedding fast approaching, I have been working hard at obtaining that perfect smile. After all, if I'm not smiling while planning my wedding prep, I'm not going it right. Right?
I figured that my wedding would be good opportunity to finally tackle the gap that was developing between my front teeth. So, for the past seven months, I've been going to Dental Options in Clane* who sorted me out with Invisalign.
At first, I was a bit put off by the Clane location. I live in Sandycove, so the journey to travel out to Naas on and off for the duration of my treatment seemed like a hassle. But their appointments are so convenient, they always suited me, and I am yet to be delayed when I go. I'm always in and out within 15 - 20 minutes and I always choose a non-rush hour slot, so I'm there and back before I know it, which fits with my busy lifestyle.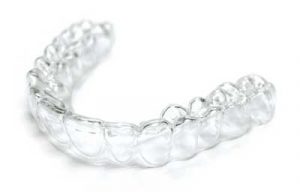 The journey so far
For the duration of my treatment, I've been given a new set of aligners every visit, which I can change at home myself. At the visit, the dentist lets me know the time frame and to check that the movement is correct. For example, when I started I had to change them every ten days as I have a receding gum on one of my front teeth and she didn't want this to progress. Now, my teeth are nearly perfect, and the movement is fractional, but as the Clearbraces professionals are complete perfectionists (which we love), I have another six aligners left, which I change every week. 
I am supposed to wear my aligners for 22 hours per day, which seems like a lot, but it's honestly so easy to wear them, I hardly notice I have the aligners in. Rest assured, I am a star student and never take them out, except to clean them and eat. (Although sometimes I go to eat something and forget I have them in!) As for other people, they can tell something is slightly different about me, but they generally can't quite put their finger on it.
Hygiene
Hygiene is so important when you have Invisalign braces. I have always been very attentive to my oral hygiene, but my Invisalign routine is more structured. First, I floss. Next, I clean my teeth with an electric toothbrush as it beeps when the allocated time of each section of your teeth are cleaned properly. I always use mouthwash to finish. After eating, I brush my teeth and the aligners. Even though your teeth have little attachments (which you can see on the after photo below), they are easy to clean and you hardly notice them after a while.
Cleaning of aligners is easy. During my longest meal which is usually dinner, I just pop them in a glass of warm water with a Retainer Brite tablet, and they are good as new after.
Advertised
There is such a huge difference after seven months.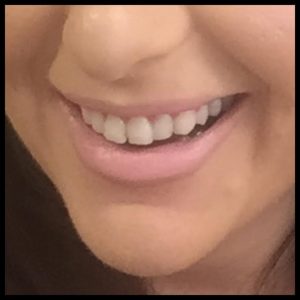 Before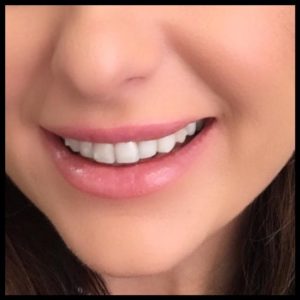 After
Advertised
I'm so happy with my results so far. I can't believe they will even be better than this when they are finished. Celebrity teeth here I come! (PS read about my initial consultation here.)
*For all lovely Beaut.ie readers, you are still in luck as Dental Options are giving you a massive discount. Mention Beaut.ie when booking and avail of €250 off Invisalign.