 My nails were scrubbed, cut and filed and ready for a DIY manicure (one must sacrifice one's beauty routines in the run up to Christmas) when the CND Vinylux Gilded Dreams nail polishes fell onto my lap.
I've waxed lyrical about the CND Vinylux top coat before, in fact, I've included it in a list of my favourite things and I am a fan of the nail varnishes too. €10.95 for a CND polish is quite pricey when compared with budget brands like NYC and Wet 'n' Wild that are doing lovely collections at cheap and cheerful prices, but the thing is, I can tell the difference as soon as they hit my talons.
One to two layers is usually enough, they are the easiest-to-apply polishes I've ever used (which means less messing around with nail polish remover and cotton buds) and they dry in a jiffy. I really do recommend the CND Vinylux top coat too, which has the ability to transform even the cheapest nail polish into something resembling Chanel. The top coat also costs €10.95 but when bought together, a polish and the top coat will set you back only €17.95.
But on to the new Gilded Dreams Collection. They come in three shades:
Dazzling Dance (a mermaidy bluey/purplish sparkle)
Chiffon Twirl (a coppery/rose colour)
Grand Gala (goldish-gree)
Advertised
Apologies for my not so attractive nails by the way, didn't I say I was preparing for a manicure? Anyway, the colours aren't as strong as some others that I have from the CND Vinylux collection but out of the trio I do like Chiffon Twirl, which gave the strongest colour. It went on perfectly in one easy sweep, there wasn't much need for a second coat (but I gave one anyway), and it has a subtle sheen that makes it a lovely day-to-night polish for winter. I will wear this again.
Grand Gala grew on me more as I wore it, and while it looks greenish/gold in the bottle, it dries to become quite a nice silvery/gold colour. Dazzling Dance is a little too watery and weak looking for me, but it would look nice on Elsa from Frozen.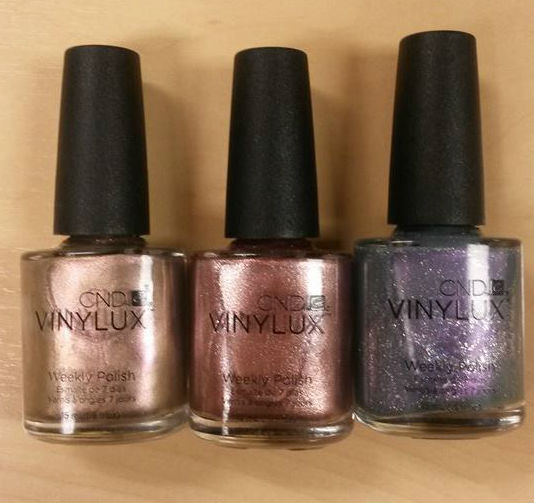 Have you tried CND Vinylux? What did you think? Are you as won over by the top coat as I am? Would you wear the colours from this new range? Let's open the floor!