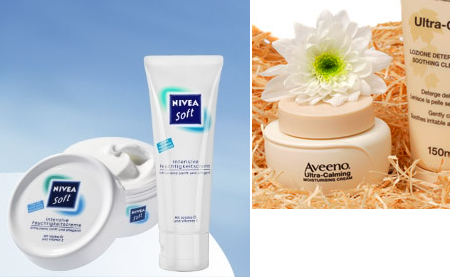 I've given you three solutions for moisturisers to tackle the problems brought about by cold, wintry weather. Products from Clinique, Liz Earle and Guinot all get the thumbs up from me, but to a lot of people, they're pricey. So, are there any cheap alternatives that will banish wind- and cold-induced fine lines and dehydration?
Yep. You betcha. My number one affordable winter skin solution is Aveeno's Ultra Calming moisturising cream. Ideal for use at night, it's soothing, really calming and hydrates skin excellently. Two bonuses here (or should that be bonii?), are that it's €10.95 and it's suitable for those with even the most sensitive of skin. I think this is a brilliant product for the price.
Nivea Soft is another option for those on a budget. It's what I call a quick and dirty product: there's no real sophistication here, no wonder-ingredients that promise line reduction and pigmentation-be-gone or anything like that. But it is very rich and emollient so what it does do is moisturise effectively and make skin feel soft. It's got vitamin E and Jojoba oil, it's under a tenner and comes in a couple of packaging options - tube or pot.
Advertised
Be warned oily gals - this will fill your face so full of gunk you'll be hoking it out for weeks. Drier skins will like it, but use it sparingly, as I found it to be really pore-blocking if I slapped on too much.