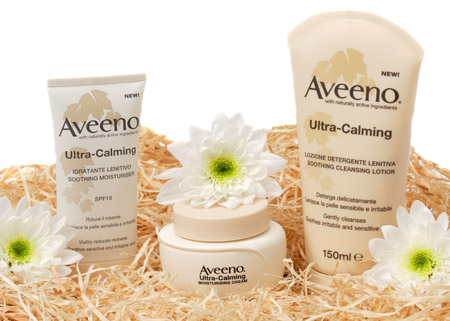 I've told you lot before a little about US brand Aveeno, but yesterday I attended a skincare launch I thought you'd all like to hear about.
Best known in this country for their oatmeal-based bath and body products, in the US, Aveeno are the number three skincare brand too. And that's thanks to their commitment to working with dermatologists, use of active natural ingredients, positive results and keen pricing.
Their new skincare line, Aveeno Ultra-Calming, sounds like an excellent range for those with really super-sensitive skin. Dr Rosemary Coleman, consultant dermatologist at the Blackrock Clinic, and one of the country's most respected skin experts, told us a bit about the problems posed by sensitive skin. And what I didn't fully realise is that sensitive skin is an actual medical condition, as opposed to a 'complaint', or a gripe about skin being a bit on the tender side.

Some of Dr Coleman's patients report such incidences of irritation and intolerance that all they can use is milk to cleanse, and glycerin to moisturise. That's a hard pill to swallow for most women, especially if you've been used to slapping on the products with impunity, but skin sensitivity can happen suddenly, she says, or develop as a result of another condition, like rosacea or eczema. And what she's found is, that this new Ultra-Calming range is being very well tolerated by those with extremely sensitive skins, helping to repair the all-essential barrier function, which in turn helps to return skin to good health.
Advertised
That's thanks to the ingredients in the range, which consists of a cleanser, day cream with SPF10 and a rich night cream. Feverfew, a plant that's related to camomile, is an essential ingredient. It's anti-inflammatory, calming and anti-oxidising, and it's the key to the ranges' success. Other actives like shitake mushrooms, soy, lavender, ylang-ylang and oats are also incorporated.
But I had a couple of questions. Why only SPF10? And if you have 'regular' skin, can you use the range too? Firstly, 10 is used to provide a measure of protection, but any higher would affect the efficacy of the product, and secondly, anyone can use these products. They're well tolerated by all, and if you don't suffer any form of sensitivity, then you'll reap the benefits of their calming, nourishing properties just as well as you would if you suffered from tender skin.
Sounds good, eh? And you'll like the prices too - the cleanser is €8.95, the day cream with SPF10 is €11.95 and the night cream is €10.95. Buy from supermarkets and pharmacies nationwide.