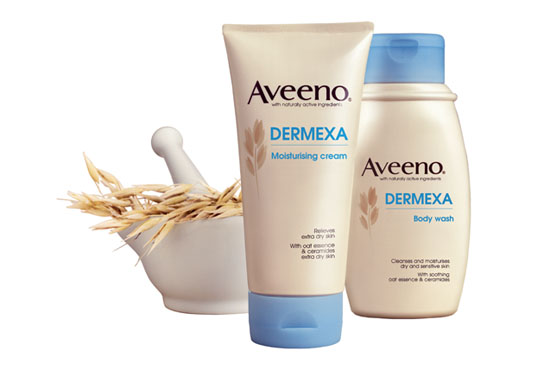 Hands up, I meant to post this two weeks ago. I am very sorry. The dog ate my homework miss, honest. Well, not literally the dog, but me and de fella went into a tidying frenzy a couple of weeks ago and moved all our crap out into storage (we had to sign a document promising we wouldn't use the storage facility to store dead bodies  ... er ...) and in the process I mislaid my notebook. Yep, the one I'd used when I chatted to Aveeno's skin expert, Dr Warren Wallo.
I thought I'd have to trawl to the farthest reaches of Dublin's grim industrial estates to peer into boxes to find it when it turned up. Um, in the handbag I'd used the day I met him. My hands are now so high up they're threatening to dislocate.
Anyway! Swiftly moving on! A few of you'd asked questions about dry, irritated skin and I have some info on that, as well as the lowdown on the Dermexa body line, which was two years in development, and promises to be of interest to Ireland's estimated 800k eczema sufferers.
It's unusual for a skincare brand to release only two products in a range and I couldn't get my head around it at first - it's way more common for brands to bombard us with a lotion for this, a cream for that and sure you know how it goes.
"So are there more on the way?" I asked Dr Wallo. "No," he said, "this is it." Me: "oh, really? But are there more in the US? More to launch?" "No," he laughed, "this really is the lot. We developed the products in conjunction with a dozen dermatologists and this is what they wanted."
Advertised
The message here is that the line is straightforward and easy to understand and use. Fair play to Aveeno for resisting temptation to spawn a million products to flog to unsuspecting consumers, I thought, and bravo for sticking to the clinicians advice.
The Dermexa line is for body and consists of one cleansing product, Dermexa Body Wash, €8.99 and Dermexa Moisturiser,  €11.95.  Like all Aveeno's products, colloidal oatmeal is in there, as well as ceramides and Vitamin B5 to improve the skin's barrier function, helping it to effectively retain moisture.
Dr Wallo says allergies and eczema are on the rise, but he's reluctant to totally blame environmental factors and thinks that the documented increase in the rates of both problems in Ireland may partly be to do with changing attitudes, better reporting and education. As a sufferer of eczema himself, he points out "as a child I didn't know what it was called, I just got on with it." It's a good point, and while he stresses that there's no cure, products can help to manage the condition.
But what triggers it in the first case? "There is a genetic component," he says, but that's definitely not the half of it. "Soap, pet dander, peanuts, eggs and also stress are triggers," advises Dr Wallo. "Eczema is so touchy about ingredients," he points out, and that's why the body wash contains no harsh surfactants to strip and irritate the skin so SLS is out. Good news, it's not an ingredient I like either.
Advertised
The lotion has a nice texture that's easily absorbed and specifically to treat the issue of eczema, Aveeno have included ceramides to help counteract the fact that eczema-prone skin lacks them, as well as pro-vitamin B5 which helps with wound healing.
The result is a line that's designed to be daily care for anyone with the issue. It's admirable to see a brand at this price level address a specific issue and to have researched it so thoughtfully.  The Beaut.ie verdict? Thumbs up!