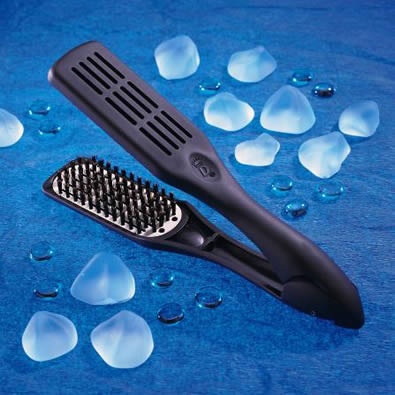 I was loitering in a chemist today, sheltering from the wind before my bus turned up, and I started perusing the hairbrush rack - I really need a new one, 'cos mine is totally on its last legs. And I spotted a genius of a product. It's a thermoceramic brush that's specially designed to use while blow drying and which is shaped like a pair of ceramic straighteners.
It's made by Denman, who make professional brushes and salon supplies, so you know it'll be a quality buy. It's also a really good idea! If you fret over the damage constant straightening does to your hair, then this could be a solution for you.
Obviously there is still some damage associated with drying, but it's not nearly as bad as searing your hair between two very hot straightening plates every day. You use the brush like a straightener while blow drying your hair. It's has a special ceramic-coated, heat-retaining plate for fast and gentle straightening and it's suitable for wavy or curly hair.
Advertised
And the price? A very reasonable €14.50! Bargain, I'm getting me one ASAP.