 There's no better style trick than a cheap style trick. Upgrade your outfit to 2019 standards with this €5 accessory from Penneys.
If it's trendy, it's in Penneys. That we know for sure. And if it isn't there the first time you look, you're safe in the knowledge that they're working on it. This time, the trend has already landed, and it's tucked away unassumingly in the scarf section.
One of the biggest little trends of the year is the chain print. It's a revival of the Versace inspired craze from the 1990s and we are here for it. But, because the print is on everything from dresses to shirts to bags, even, you might want to approach it in a more subtle way. Well, this is as subtle you can get with a trend like this and it goes back to the trend's original roots.
See our edit: 7 of the best: chain print pieces everyone will want.
Penneys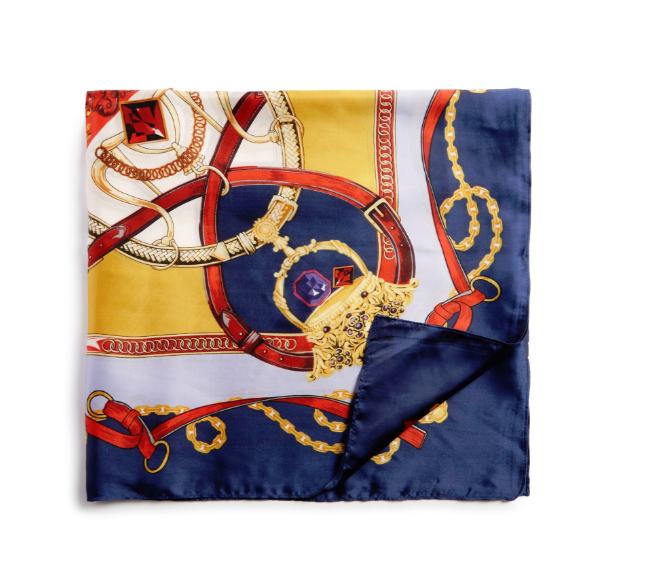 Satin Scarf €5
You'll remember the print from your school days when every second mother waiting at the gates had it on a silk scarf tied at their neck. This time, we'll be making the most of out the scarf. It will be trending up every outfit we wear, after all. You don't even have to wear it at all. Tie it around the strap of your bag. If you want to forgo jewellery, or you need some but you don't know what, tie it around your wrist.
Advertised
A lot of people have been wearing scarves on their heads lately - it's a huge trend in Australia - so fashion yours into a hairband. A great solution to a bad hair day, too.
Out of all the ways to wear it, I prefer the classic approach, i.e. around my neck and shoulders.
The full neck
The classic drape
Advertised
Do you like your trends in a minimalist way? How do you wear yours?