 These totally on-trend boots have made it to the masses and we don't think we can leave this Penneys pair behind.
I said I wasn't going to buy any more boots. And I said I wouldn't buy them in Penneys. But I don't think I'll be able to resist this pair. I've wanted them for so long.
Now, that's not the first time I've made that statement. Last season, Penneys released a pair of cone heeled boots that I got twice. The style had been popular for quite some time. They were already in shops, but I ignored them until I saw one of the Veronica Beards in them on the Netflix documentary The Fashion Fund. She wore them with uber skinny jeans and an oversized shirt and I knew I had to wear the same. The reason I bought them twice, though, was because they're not the best quality. Veronica's pair were probably originals by Isabel Marant.
The pointed toes of mine got scuffed in under a week and the heel started to wear. I should have known not to walk in them for an hour a day on my commute to work. I took better care of the second pair but after four months, they're looking worse for wear.
My hopes are higher for this pair, even though I have to break my promise to only buy investment pieces to get them. The style is Western - so far, so 2018. But they have the curved heel that makes them so much extra.
Here's Leandra Medine wearing a pair of 'Old Celine's'.
Advertised
Just so damn cool.
I didn't buy the white Zara versions last year because even though the temptation was so very great; I knew I would get tired of them. But now that this pair are in Penneys, and they're plain black which gives them a longer shelf-life, I don't think I can defy the fashion Gods that guide me. AND THEY'RE SO CHEAP.
Penneys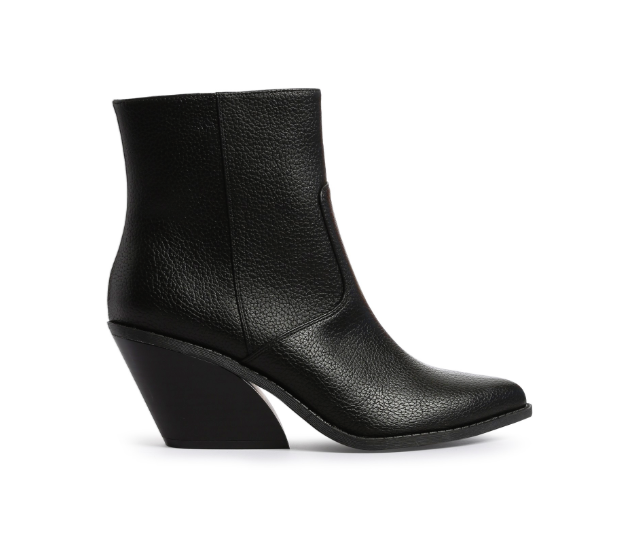 Black Curved Heel Ankle Boot €21
Advertised
They'll go with so much. Jeans. Midi skirts. Your other pairs of jeans.
Yep, getting them. Are you?