 Embryolisse Cream is one of the products makeup artists cant live without. Here are just three of the reasons why.
Embryolisse Cream has been a trade secret in the beauty world for years. A quick glance backstage at Fashion Week, or on any editorial shoot and you'll see the white and blue tube every time. But why? What makes it such a must-have?
Well, Embryolisse Cream (or to give it its full name Embryolisse Lait-Creme Concentre Nourishing Moisturiser) is a cult classic for a few different reasons. But the main one is that it is a gentle moisturiser that leaves skin glowing and perfectly prepped for makeup.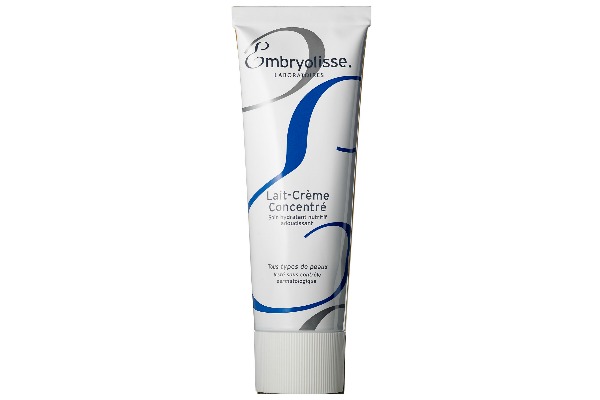 But that's not all. The light, fluid cream can also be used to remove makeup. Even heavier foundations melt away easily. Alternatively, you can use it to repair/freshen makeup. Buff it onto any areas of skin during the day where your foundation has gone a little dry or patchy and voila it looks good as new. I've found that to be a particularly handy trick if you're heading out straight after work and want to freshen up your makeup without removing it.
Advertised
Another way you can use Embyrolisse Cream is as a hydration mask. As someone with combination/oily skin myself, it's not an ideal moisturiser day to day but it works perfectly as a mask to rehydrate my skin.
So, we know that it works well as a moisturiser, mask and for makeup removal and repair. But is there anything else Embyolisse cream can do? Yep! Some people also use it as a primer to give skin a soft, dewy finish (just avoid the T-Zone area if you usually get shiny). And finally, men love it as an aftershave balm. Like I said, it's definitely more than just a moisturiser.
Embryolisse Lait-Crème Concentré Nourishing Moisturiser is available in 30ml (€16.99) and 75ml (€24.99).