 Strobing is everywhere at the moment, but I don't really think of it as a trendy thing to do. Most days, I'll whack on a little touch of highlighter. It adds dimension and radiance to the face, takes a nanosecond, and  is basically a form of inverse contouring. By highlighting the bone structure of your face, you add definition without ever having to paint a couple of orange stripes on your cheeks.
If you want some easy tips on summer bronzing, read this. If you're more of a highlighter person, read on, because we have some very nice (and very easy) options for you:

Essence Soo Glow! (€2.89)
This is without compare the best affordable highlighter around. It gives an expensive looking sheen to skin and looks fantastic day or night. I whack it on with fingers and use the change from a fiver to buy myself some minstrels. Job done.
Boots Botanics All Bright Radiance Balm (€7.99)
Advertised
This handy liquid highlighter is a dead ringer for Mac Strobe Cream when it's on the skin. It gives a gorgeous natural looking glow. Add it to your foundation for a bit of extra radiance. For all-out gleamy skin, apply it underneath foundation and then again over the top, but just on the high points of the face.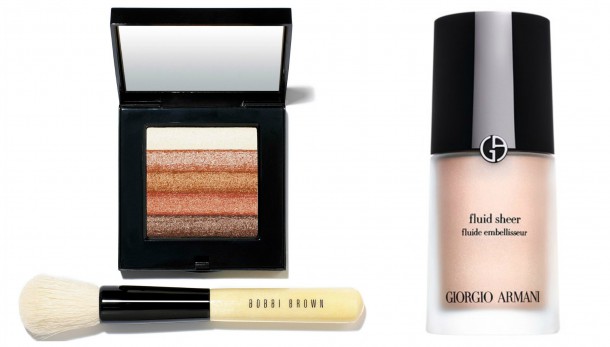 Bobbi Brown Shimmer Bricks (€42.50)
If you have a higher budget, the highlighter world is your oyster. As is always the case (sadly) higher-end brands offer more inclusive shade ranges. Bobbi Brown Shimmer Bricks are the ultimate powder highlighter. All you need is a fluffy brush. The more you buff, the gleamier and glowier your skin will get.
Giorgio Armani Fluid Sheer (€45)
There's no liquid highlighter on earth like Fluid Sheer. There's a shade for every ethnicity, season and mood. Layer it onto skin with fingers or take your time and use a brush. On no makeup days, a touch of this will liven up a dull complexion. It's glow in a bottle, and though it's pricey, it lasts forever. My current bottle is nearly two years old, and there's more than half left in there. Don't judge me for using old highlighter; it's too pretty.
Advertised
What's your ultimate highlighter? To the comments!