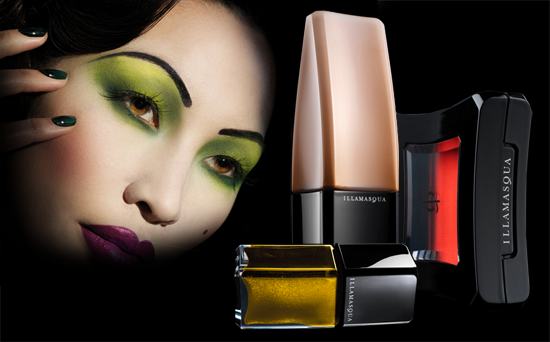 I may as well give it up right here at the start: I bloody love Illamasqua. I'd been watching it online and through things I'd read in the UK press for a while, and recently we broke the news it was en route to our shores. Well, it's landed ladies, and boy-oh-boy is it good.
Probably the polar opposite of Bare Escentuals, which it's kind of hilariously situated beside in BT2's Grafton Street store, this is makeup for glamazons and anyone who wants to explore their alter-ego. Beside the pale pink BE counter, we get perspex, mirrors and shiny black and cream Corian, sculpted into flutes and swirls inspired by the vibe of 1930s Berlin. This is high drama, high fashion stuff. A bit naughty, a lot OTT. Is it glam? Oh, you betcha.
Those swanky counters are topped with a multitude of eye-popping colours for nails, eyes, cheeks and lips, but it's not just about shocking shades.
Advertised
Given the goth/burlesque/counter culture vibe of the brand, foundation shades start at white. No joke - you can quite literally walk away with a Sudocrem-esque base, but that's not to say other skin colours are ignored, because they're well catered for. I got a perfect match for my milk bottle complexion, and I reckon this brand will become a go-to for anyone who falls between the cracks of other brands' foundation offerings.
What else marks Illamasqua out? Something pretty interesting actually. If you have makeup done - redeemable against product purchase - it'll be filmed and given to you on a disc at the end. So smart, and it means that you'll have a lasting record of the steps you'll need to take to recreate your look.
Prices are good and pan sizes are as well - a really generous cream blush (twice the size of many I already own) is €20, foundation is €25, pigments (massive too) are €18 and lipglosses come in at €15. I drooled over the lot and my shopping list now includes a cream blush in a to-die-for baby pink, an almost neon red full intensity lipgloss and pretty much every single nail polish. But if I had to settle on one, it'd be the matte-effect fluoro pink. Gawjus.
Illamasqua is now at BT2, Grafton Street, Dublin, Debenhams, Belfast, with a counter on the way at BT2 Dundrum this summer.