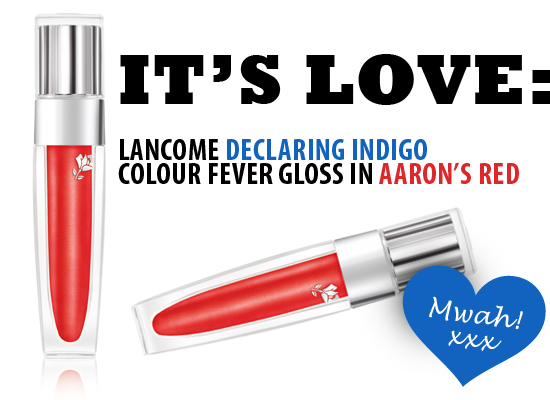 All of the forthcoming Declaring Indigo collection is gorgeous, and I've been slapping on the eye shadow shades from the Palette Liberté with abandon, but one product alone has captured my heart.
And it's a gloss. Gloss hasn't touched my cold, lipstick-loving soul for a couple of years now, but the almost-luminous, sheer gloop in one of the collection's two Colour Fever Glosses has really gotten my attention.
It's Aaron's Red, and it is just beautiful. Ideal for day, ideal for gals who shy away from opaque reds (it's got a lovely pigmentent transparency to it) and ideal for me - this is just gorgeous. It's not sticky, there is no glitter (hurrah!) and it looks fabulous on. Lovely and all as it is solo, you could of course layer it over one of Declaring Indigo's matte red lipsticks for extra va va voom. On naked lips, this is my current absolutely-definitely-must-have.
Advertised
Fabulous - and a special point of praise should go to the excellent applicators Lancome use on their glosses: the little hollow heart-shaped wand is cushiony and makes slicking on the product a cinch.
The collection will preview at Brown Thomas from August 15th, going nationwide on September 1st. Both Colour Fever Glosses in the collection will retail for €20.