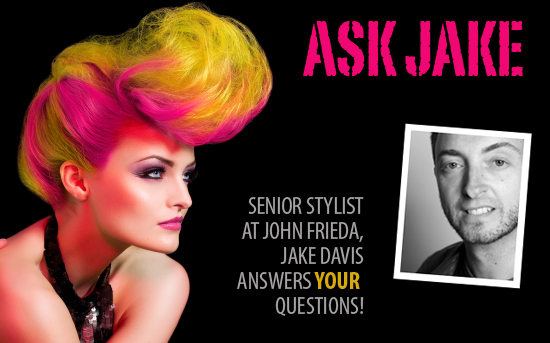 OK, er, I have a confession to make: when I met Jake Davis, we spent far too much time nattering and so, um, I only got five of your questions answered.
I have medium length curly hair - any idea of an easy to manage style? I am useless at blow drying!
The most important thing, says Jake, is to keep layers long.  "Make sure that your hairdresser gives you some definition around the face too," he adds. Both of those things will be the foundation on which your hair-care programme rests. "Use the Curl Around range," Jake recommends.  It relaxes and prepares hair, and afterwards use a styling product like Spiral Style Curl-Defining Spray Gel before you do a quick blast with the dryer. "Frizz-Ease serum is also perfect for curls," he advises.
I have straight hair, and I like to keep it long - but the weight of it pulls down so it has no volume around my head. Are there any tips or tricks that could give it some oooomph?
Jake showed me how to do this while he was blow-drying my own gruaig to perfection. Layers can help to start off with because they take some of the weight out of a full head of long,  heavy hair - which is a recipe for a volume-less crown.  You can read some of my tips for volume on my post on managing frizzy barnets, but Jake's tip is a blow-drying one. Use a good few squirts of Blow Dry Lotion in wet hair and then when drying,  flip your parting the wrong way, blowdry using a round brush, and then flip hair back to its normal parting. Voila! Instant volume!
How do I deal with flyaways around my forehead hair line? Wax is too heavy, serum doesn't seem to work- and everything builds up over time too 'cos its right at the edge of my head!
Advertised
"Secret Weapon Flawless Finishing Cream!" declares Jake. "It's like a hair cosmetic," he adds, but warns that it's easy to miss the point of the product as it's very subtle. In the hand it feels like skincare, and applied firstly to hands and then lightly smoothed through the front of the hair gives light hold and a sleek finish. Plus, you can use it throughout the day, too.
Is the new John Frieda Go Blonder range suitable for someone with hightlights and a few lowlights? I'd like to try to maintain my colour a bit longer but afraid of ending up with yellow one-tone hair!
"Absolutely," says Jake. Go Blonder contains lactic acid and it does lighten hair, he advises.  "But it's nowhere near as harsh as products you might remember from years ago." Rather, you'll get a sun-kissed look from the products, helping to maintain the look of your highlights.
I'd like to use a semi-permanent dye, similar enough to my own colour, just to give it a bit of a lift. But are home colouring kits really bad for your hair?
Jake reckons so. "You're in dangerous territory with home dye," he thinks.  Too much can wrong and a good dye job should ideally be an overlay that acts a bit like foundation. It should be matched to your tone and able to cover the bits you want to cover, but you should still always be able to see the hair beneath. It's all about perfecting, not disguising, and unless you happen to be a crack DIY colourist, it's unlikely you'll be able to get that result at home.
This is one of the reasons salon colour is so expensive: because done correctly, it's really a major skill, and it should be so good that you hardly know it's there. Unless, of course, you're onto that one-dimensional dye-job that looks cartoonish, that is.
But if you do have to go the home route, he suggests you at least try to go into a salon and get some advice about what part of the colour spectrum you fit into, so you can make the very best home dye shade choice possible.
Advertised
Oh, and lastly, Tcup's cheeky turn-it-on-the-hairdresser question: just what IS he doing for his holliers? He laughed and then told me that he's off to the Garden Festival in Croatia, that's what!
All products mentioned are part of the John Frieda haircare and styling range, available at Boots, pharmacies and supermarkets nationwide.