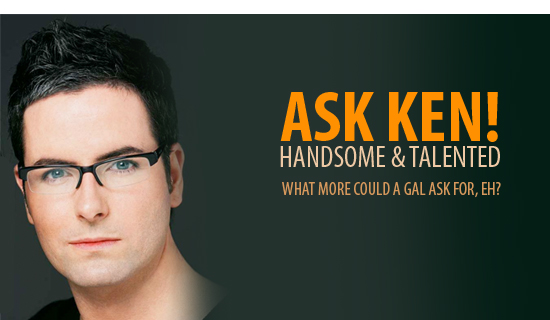 A few weeks ago the lovely, talented, handsome Ken Boylan (if I flatter him shamelessly hopefully he'll consent to answer some more Qs for us again, eh?) offered to cast his expert eye over some of your most confounding beauty dilemmas.
Was yours picked? Read on to find out!
What's a nice powder to set foundation? I couldn't be without powder but it usually takes from any nice dewy effect that the foundation may have, and can sometimes make my makeup look very dull and flat. I usually use a loose translucent powder
Loose powders are really good and very economical because you get so much in them, and I also like pressed powders because they fit into your handbag. Really good powder shouldn't take away from the dewiness of your foundation - but if you apply powder too heavily it will go cakey and chalky on your skin.
My advice is to use a good quality brush to lightly apply powder onto the face. Good pressed powders are L'Oreal True Match and Armani pressed powder, and if you are looking for a loose product, I would recommend Armani lose powder which is very good, as is Smashbox's. All of these powders have silicone in them to make them slightly dewy.
I don't know how to blend eyeshadow! I never get it right - I end up spreading it all over my eyelids (not a good look) or else making it disappear. Please help!
When you're using a powder eye shadow, make sure that your eyelid is completely dry before applying it. If the eyelid is in any way oily and you apply shadow straight on to it, it will stick  - and you won't be able to blend with your brush. Also, make sure that the brush you are using is the right size and shaping for blending: ­ I use what's known as a ponytail brush for this.
When you're using your brush keep the blending motion small - avoid big sweeping motions because the shadow will go all over the eye and not just in the desired area. If you blend too much your eye shadow will disappear.
How do you hide enlarged pores? or can you recommend a product that doesn't sit in them?
Advertised
A good facial peeling or exfoliation will help to reduce enlarged pores, and ­ I recommend covering them under your foundation using Smashbox Photo Finish primer. It sits on the skin and sits on the pores to give even surface prior to your foundation application.
How DO you cover dark circles properly- everything I've tried gives me dry skin in the eye area where the dark circles are and touch eclat gave me eczema! is there a wonder product for skin like mine please?!
You are obviously allergic to something in the concealer. What I would suggest is that you try a mineral concealer from brands like Bare Escentuals or Jane Iredale to see if they work, because they would have the least amount of perfume and parabens in them.
I'd love to know what Ken's view is on mineral makeup?
I love mineral make up but I find it sometimes a little bit time consuming to apply, and a bit messy as well as they are in powder form. I can't wait until they come up with the pure mineral liquid foundation. There are some good part liquid mineral foundations out there like Maybelline's Pure.Liquid Mineral Foundation and Rimmel's Lasting Finish liquid mineral foundation, and ­ both are in a very good price range. Smashbox also has a very good powder mineral foundation.
As I wear glasses I was wondering if Ken has any idea for making eyes stand out behind frames?
There are no real make up rules when you are wearing glasses. For example, Ellie, my business partner, wears glasses all the time and she does her eyes exactly the same as everybody else.
Here are few tips to make the most of your eyes when you are wearing glasses:
I would suggest that you shadow your socket line more strongly
wear a liquid or pencil eyeliner to make your eyes appear wider and more open.
Apply mascara well on your bottom and top lashes to make your eyes wider
Define and shape your brows well to finish the look.
When I do my full night time eye make up, my eyes appear to slant downwards (towards my ears) in any photographs ... how can I fix this?
Advertised
When you are applying your shadow into your eye socket don't pull the brush downwards. Stop at the corner of the eye and try flicking the brush upwards towards the brow a little. This will give the illusion that your eyes are slanting upwards as opposed to downwards. Also, if you do a liquid eye line and flick at the corner upwards towards the top of your ear, that will lift your eye.
Didn't see your question there? Never fear, we'll have part two of Ken's tips soon.