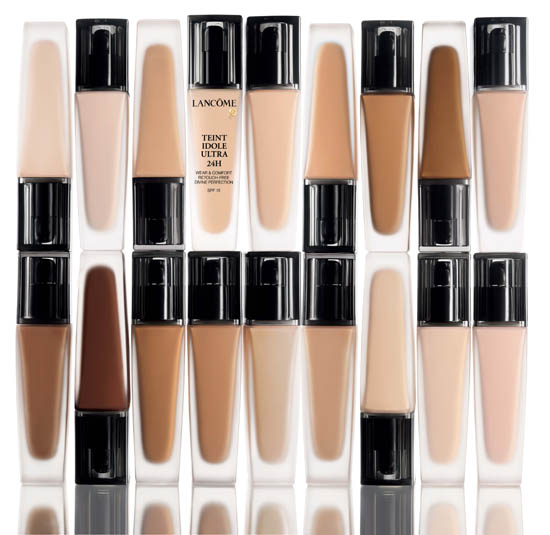 This new release from Lancome updates the existing Teint Idole formula and gives it even greater longevity, shade choice and staying-about-on-your-mushness. Launched in a limited release in January, Teint Idole Ultra 24 Hour, €35, is now widely available in 18 shades for cool, warm, light and dark, and I've been using it on and off for the past few months.
What do I reckon?
This is one of the new generation of longwear bases that products like Chanel's Perfection Lumiere, Clarins Everlasting and Diorskin Forever fit into. They're built to last but they don't have claggy, pollafilla-style coverage, always an issue with long-lasting foundation previously. So this is fluid and fine when you pump it out, and smooths onto the skin in a veil that can be sheered out or very much built up; far more than Perfection Lumiere can, I'd say.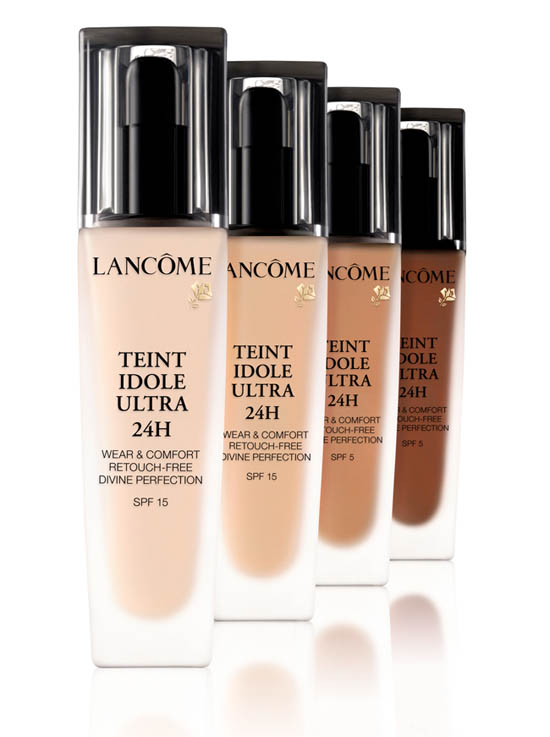 For day, one pump is all I'd use, and for night I'd go to two or even three depending. It isn't flat and dull on the skin which can be a problem with longwear, and does deliver a small hint of satin finish, which I like, as it gives warmth and light to the face. One criticism I have of this is that when I do layer it up it does tend to accentuate fine lines, especially around my eyes (but then all more matte bases do this), but the flipside of that is Teint Idole Ultra 24 Hour gives absolutely flawless coverage.
Advertised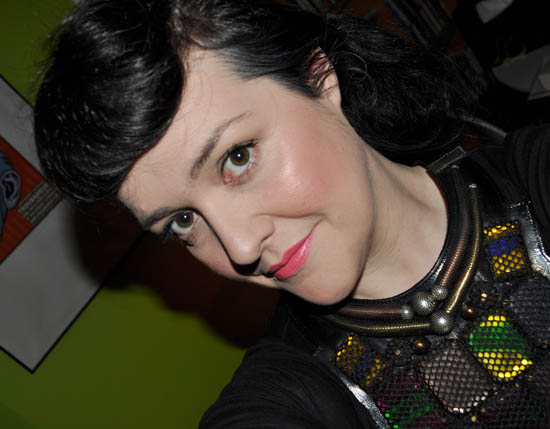 Teint Idole Ultra 24 Hour in shade 010 buffed into skin with a Mac 130 brush. Pic taken with flash
Yes, you can tell you're wearing makeup, but skin looks incredibly perfected. It's not actually a look I go for much to be honest - I know lots of people do want that completely flawless base - and in general I like a light, dewy base that you can see the complexion through. But I was very impressed at the ease in which this delivers a perfect-looking finish. It's quite remarkable really.
However, it does desiccate my already dry skin quite a bit so this is an occasional-use product for me. I find it considerably more drying than the Chanel offering, and can't use it daily. But here's a hint: if something says 24 Hours on the packaging, then it's not really meant for a dry skintype, no matter what the morkeshing blurb says. Dry skin sucks in makeup and holds it; oily or combo skin does not, and it's this type that needs the film-formers and clever polymers in this product to keep it in place all day. Dry skin will feel a dehydrating effect - I know I did. (We'll have a piece coming later this week on ways to identify what's for what type, by the way)
All that said, I liked this and will happily use my press sample up for evening wear and those times when I want great coverage and a totally smooth finish. The shade I was matched to is excellent for me - 010 - and there are loads to choose from.
Advertised
As it's been available now for a month or so I know some of you will have tried it; what do you think?