 If you are to make one addition to your makeup bag for summer it needs to be a fabulous new lipgloss. Gloss has finally made it's comeback.
If your makeup bag needs a spring clean - and we know ours does - swap out your matte lip paints for a gorgeous new gloss. I always say how much I love lipgloss. It's a makeup product with a purpose. It doesn't just add colour or shine, it actually makes your lips look fuller and healthier.
There are very few downsides to a gloss. Okay, so sometimes they stick to your hair (that's annoying) and they can really exaggerate a chapped lip situation. If you're a long-haired girl, go for a creamy lipgloss rather than sticky so the problem won't be as sticky. If you have very chapped lips, just choosing the right formula of lipgloss will help make it less noticeable. You will need to choose a really hydrating formula that conditions your lips while you wear it.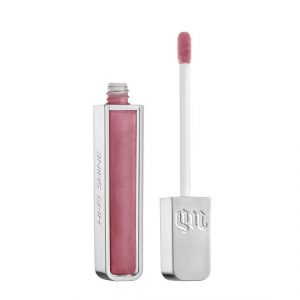 Advertised
Urban Decay Hi-Fi Shine Ultra Cushion lipgloss €18.00
Urban Decay just launched the most divine collection of lipglosses. They come in every colour you can imagine so there should be one to suit your tastes. Naked is a really safe neutral gloss that you can swipe over any nude lip to amp up the volume. But there are lots of bolder colours included in the collection too if you like your gloss to add colour as well as just shine.
Be warned - they are sticky but in a good way. They give super volume, serious shine and last for ages due to the stickiness. So if you're the kind of gal who loves a big, juicy, sticky plump set of lips, you need one.
If you have the other problem, chapped lips, and lipgloss only makes your lips look covered in lumps of sticky skin, these work a treat. They have peppermint oil and vitamin E to plump and condition your lips. Midnight Cowgirl is a great one to go for because it is a sheer nude cream colour with a champagne shimmer that won't highlight dry skin.