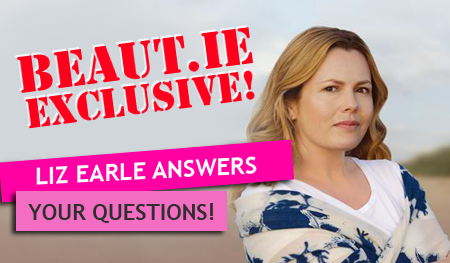 Yesterday we had the skinny on how to get the Liz Earle facial effect at home (and how much would you like to head to London to check one out for yourself, eh?) and what lovely Liz would take to a desert island with her. Quite a lot, it turned out, and I reckon she might be liable for an extra baggage charge too. So Liz - beaut.ie implores you to not hit that desert island on a Ryanair flight.
Today we're going to find out the answers to what products a rosacea-prone skintype will get on well with, her fave non-Liz Earle product, a suggested routine for a late 20s - early 30s gal, and she's also tackling the thorny subject of SPFs in skincare.
Which products are suited to uber sensitive / rosacea prone skin?
"If you have sensitive skin it's especially important to check the ingredient listing on anything you take into the bath or shower as some synthetic detergents can upset delicate skins. Commonly used detergents such as sodium lauryl or laureth sulphates can cause low levels of irritation for sensitive skins, leaving them feeling dry and itchy. We worked hard to exclude these from the formulation of our Energising Body Wash and Orange Flower Botanical Body Wash. Our in-house botanist sourced several plant-based alternatives. These include extracts of corn, coconut, oats, yarrow and soap bark, that give lots of naturally foaming bubbles to gently cleanse without stripping the skin, so it can safely be used on babies and many people with eczema."
"Rosacea appears most often on the cheeks, nose, chin or forehead. It can be found on the neck, chest, scalp or ears too. In around 50% of sufferers the eyes are affected resulting in discomfort and redness. So it's important to choose gentle skincare if you suffer from rosacea and look for good quality ingredients, especially soothing botanicals and vitamins such as aloe vera, lavender and cucumber. Certain ingredients may overly stimulate rosacea including: acetone; alcohol; clove oil; menthol; peppermint oil; tea tree oil; witch hazel and synthetic chemical sunscreens such as benzophenones and methoxycinnamates."
Advertised
"If your skin is prone to flare-ups like acne rosacea, you'll find that our gentle, Cleanse & Polish is suitable for all skin types, leaving skin feeling comfortable. Our alcohol-free toner, Instant Boost Skin Tonic, with soothing chamomile, cucumber and softening organic aloe vera can help to calm the skin. Try cooling it in the fridge for extra refreshment. Roseaca sufferers may also prefer a richer moisturising cream, such as Superskin Moisturiser, which we formulated with additional essential fatty acids to support the skin (together with anti-inflammatory botanicals) and we left out the essential oils which can cause sensitivity, making it the best choice for the uber sensitive. Many of our customers who have rosacea say they get good results from our calming and rehydrating Intensive Nourishing Treatment. You'll find a full fact sheet with a lot more information on this distressing skin condition on our website. Most folk with sensitive skins can use our products but as a common sense precaution, we do recommend a patch test is carried out 24 hours before use, either behind the ear or the inside of the upper arm."
I'd like to know what her favourite non Liz Earle product is?
"I recently went to LA to launch our range in STUDIO, an exclusive beauty boutique at Fred Segal which is a hot spot for Hollywood's A listers. Whilst I was there I came across Robin Coe Hutshing's Memoire Liquide Bar which is a custom-fragrance blending bar, where fragrances are mixed personally for each customer. I came away with a beautiful bespoke blend of natural essential oils and essences, their fragrance bar is really special, with knowledgeable fragrance experts who make the whole experience very personal and it only costs $30, I am now hooked!"
What products or regime would she recommend for someone in their late 20s/early 30s with oily skin who's also concerned about ageing? Someone noticing the beginnings of permanent frown lines across the forehead, lines around the eyes etc, but for whom rich products would lead to upset pores and break-outs.
"Women age well when they don't mess around too much with their face! A simple skincare routine for oilier skin types which are starting to age, should involve a daily gentle cleanse. Using a creamy cleanser with a soft muslin cloth, can help to subtly speed up skin cell renewal, such as our Cleanse & Polish, so it is intrinsically helping to keep the skin looking more youthful. For oily skin I would recommend our Skin Repair Light moisturiser which leaves skin with a matt finish, and our Smoothing Line Serum as these are light in texture and are easily absorbed into the upper level of the skin, plumping fine lines without causing excess sheen.  Smoothing Line Serum is particularly effective on targeting fine lines as it contains antioxidant-rich grapeseed extract and plant-based hyaluronic acid can be used on targeted areas such as frown lines, the nose to mouth lines and the delicate eye area."
Advertised
Why are there no SPFs in Liz Earle moisturisers?
"Our Moisturisers don't contain SPF for several very good reasons. Firstly, they are hard-working multi-taskers and are designed to be used both day and at night (obviously we don't need an SPF at night…). Also, if there is not much sunshine (most of the time at the moment!) and you spend most of your day indoors (as most of us do) you really do not need to load your skin with additional unnecessary sunscreens. Sunscreens added to moisturisers can also lull you into a false sense of skin security, as applying a thin layer of cream first thing in the morning will not give you day-long protection – in fact, most of its effect will have worn off by lunchtime (possibly the very time you need it). So, all in all, it is far better to apply a proper SPF facial protector over your moisturiser on the days you need it. Also, bear in mind that wearing make-up gives good sun protection too as it provides a physical barrier from UV rays, especially if you wear both foundation and face powder."