 It's been two years in development and one of the worst kept secrets in the beauty industry, but Lush's first foray into colour cosmetics finally launches worldwide online and in stores on 21st July.
Now, as you might expect with Lush, Emotional Brilliance isn't your average make-up range: it's been developed in conjunction with a strategic behavioural therapist and has its roots in colour therapy.
Each of the Emotional Brilliance shades represents and is named for a word used in therapy sessions to alter perceptions and states of emotion and to change behaviour. The idea is that, rather than choosing make-up shades because they're in season or on-trend, you have a personalised colour reading to select shades that identify a psychological need. (Stay with me here.)
Spin the Emotional Brilliance colour wheel either in store or via an app (Marty Whelan would love it) and pick the three colours that most appeal to you when it stops – not because they're your favourite colours or coordinate with the clothes you've on, but because they stand out to you at that particular moment in time.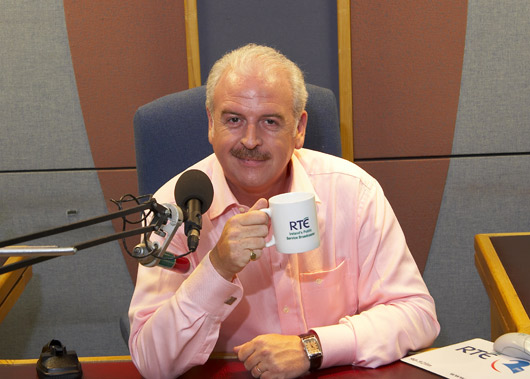 Marty via photography.ie
When I played the game at the press day for the range in London's Groucho Club last week (for Gossip Girl/Chuck Bass fans: I passed Ed Westwick looking pouty on my way out) my three choices were Believe (a fuchsia liquid lipstick with red leanings), Ambition (a bright red liquid lipstick), and Calm (a turquoise eyeliner.)
Advertised
According to Lush co-founder and inventor of Emotional Brilliance Rowena Bird, the order in which you choose the colours reveals your current state of mind.
Your first colour choice symbolises your strength or weakness;
Your second resonates with your primary subconscious need;
Your third choice represents your talent, the thing that will help you to achieve that subconscious need.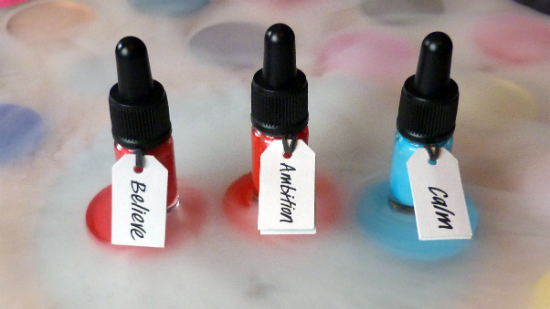 My choices of Believe as a strength/weakness, Ambition as a subconscious desire, and Calm as a talent did seem to accurately tap in to my state of mind at the time.  Like anyone who's slicked on an empowering red lippie, I know the power of colour cosmetics and of positive thinking. So while Himself reckons it's marketing-friendly hokum and there are obvious limitations to this system of colour selection (you could be matched to shades you'll never wear; you'll likely get a different result every time you spin the wheel; you might have popped in for a lippie but be colour matched to an eyeliner), I think that Lush might be on to something.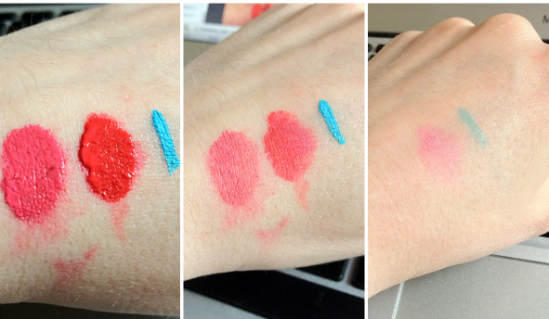 Believe, Ambition, and Calm swatched heavily, blended into skin, and washed off (!) with water
I really like that what you effectively end up with are cosmetic affirmations, since the theory is that the positive power of the word for which each shade is named will stay with as you wear the colour.
And hey: it sounds like a better result than the initial giggle/groan you might get from the puntastic name of an Essie or OPI nail polish shade.
Advertised
What do you reckon - will you be giving the wheel a whirl?
Emotional Brilliance, the 30-strong vegan-friendly range consists of three types of product: Liquid Lipstick; Cream Eyeshadow; Liquid Eyeliners (5g of colour  €17.95).  In addition to the core Emotional Brilliance shades, a cohort of four supplementary products (Eyes Right mascara, Emotional Brilliance Translucent Facial Powder, Feeling Younger illuminating skin tint, and Charisma bronzing skin tint , €14.95 each) will be released concurrently. Available 21 July 2012.