 Every now and then I sit down at my dressing table with big plans to declutter my make-up, throw out the stuff I haven't touched in years but have struggled to part ways with (seriously, who develops an emotional attachment to a nail polish?) and line everything up in an orderly fashion so that it's not only nice to look at, but gives me that clearer mind effect too.
And that lasts for about two days 'til I'm rushing out the door - I knock over a few lotions and potions, spill powder all over the place, and my lipstick arrangement comes crashing down like a line of dominos. Not to mention the collection of shameful face wipes artfully strewn all over the place (note to self: invest in a bin, it'll cost you all of two euro).
You'll probably agree that it's high time I invest in a decent make-up storage solution. If you too are suffering from the beauty product bomb site come bedroom situation, join me, as we take a look at what's on offer.
Muji have an enormous range of options.
If you want to make a serious investment in something that you can take with you wherever you move to, wherever you call home, then Her Clutter Box has lots of options. Only thing is, they're a little on the expensive side. If you're wondering why they cost quite this much, here's what the website folk tell us. They're 'manufactured using high grade durable acrylic and are built to last.' What's more, they're all made right here in Ireland.
"We do not use 'moulds' to mass produce the ClutterBox, it takes many labour intensive man hours to produce the meticulously handcrafted acrylic make-up organisers. A ClutterBox is a high end product and is without a doubt a long term investment."
And in real life, this kind of ruthless tidy-up looks something like this: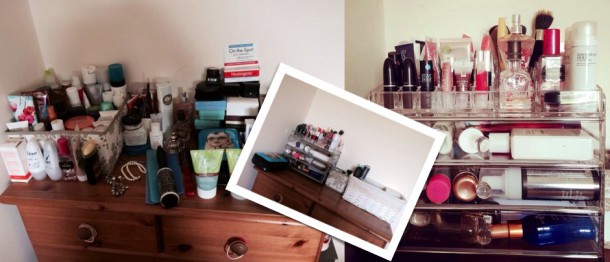 Advertised
Ikea, thankfully, are there to provide us with a far more affordable option.
Alternatively, if you'd rather not look at it at all, and are more a minimalist kinda gal, you might consider investing in some drawer liners which mean you could technically keep all of your beauty bits hidden away in a drawer of their own (all that's left to do now is convince your other half that you really do need one more drawer). Ikea have this covered at a refreshingly cheap price.
Interestingly, for those who fancy themselves one step closer to the Kardashians, you can actually buy a Kardashian branded make-up storage unit. Behold, the 'Kardashian Makeup Acrylic Lucite Clear Cube Organiser With Drawers Removeable Dividers'. Or in other words, another plastic box.
Advertised
How do you organise your bits and bobs? Are you an organised declutterer or an intervention-requiring hoarder? And if you have any storage tips, do share! *twirls Monica duster*