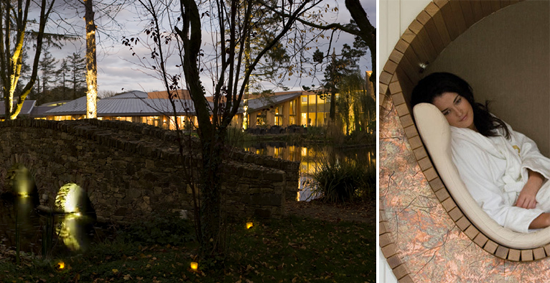 We were following the porter into Monart when Kirstie turned to me and mouthed "It's gorgeous!"
That's how quickly you fall in love with it.
We were women on the verge of a nervous breakdown when we decided we just need to get away and have a few days R&R. "Let's go to Monart!" we decided.
And what a good choice we made. Everything and I mean everything about Monart, is divine. As soon as you enter the destination spa you are instantly urged to get into your fluffy robe and slippers and stay like that for the whole duration of your stay. Submerging yourself in "the Monart cocoon" as they call it, encourages you to relax completely and leave all the stress of life at the door. Filled with light, spacious, modern and luxuriously furnished the rooms are fantastic and the beds are comfort city. Outside, streams burble, flocks of ducks swim in the ponds and paths meander through the wooded landscape. I know I sound like an infomercial - but it's all true.
You get dressed for dinner and get undressed for Naked Hour. We of course were in stitches about Naked Hour and quizzed staff at every opportunity about it. "What happens? Who does it? Does it happen in the (gulp) dining room?". No, we were told, it just happens for an hour in the morning, is contained to the Themal Suite and is mostly only enjoyed by European men. Sure that's okay then, we know that Germans are fond of stripping off with ruthless efficiency and once we didn't have to see any dangly bits over our scrambled eggs we were happy.
Advertised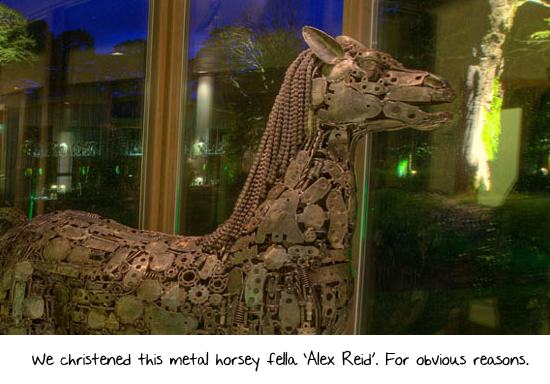 We had tons of treatments when we were there. Well how could we not eh? Between facials (they use Pevonia Botanica products, which are all natural and super swanky), massage, head massage, pedicures and salt scrubs we were relaxed to within an inch of our lives. They are really good at massage at Monart and all the treatments we had involved sublimely relaxing kneading and soothing of jangled muscles. Two relaxation rooms (a dark room and a light room, with cubby holes in the walls to curl up and relax in) were fantastic. Only thing that's missing is a hot tub - oh we do love the hot tub you see.
The staff are really nice, the food is delicious (too nice in fact) and the spa treatments fantabulous.
Monart lives up to its Forbes and Conde Nast accolades and international reputation. And then some. We're already planning when we can go back. We may have to go on the NAMA list to do it (it cost us over a grand for two nights and that's with the two treatments Monart kindly gave us) - but that's the kind of place it is and it's totally worth it.
If you fancy taking a trip to Monart to check it out there's a special offer running at the moment that might suit you. The four hour midweek spa special includes use of the extensive Thermal Suite, Relaxation rooms and Gym and lunch in the Spa Cafe. Choose one of the following Private Treatments: Reviver Facial; Hamam Body Brush & Scrub; Tension Release Massage and a File & Paint. €95 per person (Available Monday - Thursday) Call Reservations to book 053 923 8999