 We were rather excited when L'Oréal released their Collection Privée Colour Riche Nude lipsticks. It really is an ingenious idea - grab a bunch of famous, successful women of all ages and skin tones, and tailor a nude lipstick to them. All you need to do to choose which of the shades is right for you is go for the woman with the nearest skin tone. I'm clearly more Julianne Moore than Eva Longoria with my pale skin. I'm also clearly nothing like either, but you get my point! It's a nice (and novel) way of figuring out which shades work for you.
Well, now they've only gone and done it with reds in a collection punchily called L'Oreal Collection Exclusive Pure Reds. The only thing better than the perfect nude lipstick is the perfect RED lipstick. And don't be telling me that red doesn't suit you. That's only twaddle - you just have to find the right shade! And if you think your lips are too thin for red, nonsense I say. With the right formulation and a clever use of lipliner, you can bedeck your smackers in red to your heart's content.
I won't accept a word of protest on the matter. No, not even from you. Pipe down at the back!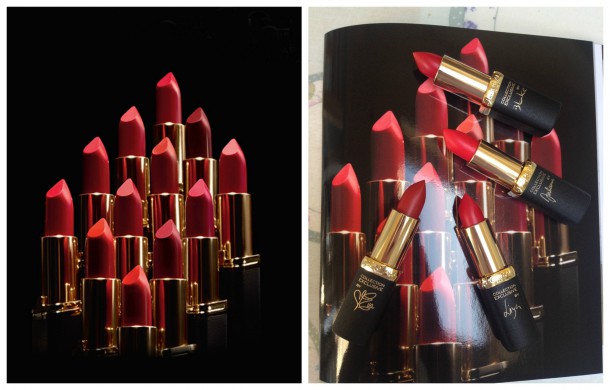 Now, these are just too nice. I'll tell you that now. If you have a glut of red lipsticks, you will end up wanting to buy one or all of these lipsticks anyway, so don't go blaming me when you read to the end and then send an email reading only 'Oh Jesus, PLEASE TAKE ALL MY MONEY'!
So the people at L'Oréal Paris are kind of genius. What do people love in their cosmetics? They love value for money, luxurious packaging, great formulation, colour payoff and lasting power. They love a subtly delicious scent, and they love celebrity endorsement. Well, here you go! These have the whole shebang.
I have four shades to show you - and they are all incredibly lovely.
First is Blake's Pure Red. Now, I know that some of you love Blake Lively. I think she always looks a bit as though she's focusing very hard on holding a grape between her bum cheeks. That said, her shade of red is perfect for pale blondes. It's a true blue-based cherry red, and I want to eat it.
Advertised
Next comes Juliannes's Pure Red, which is my favourite. Perhaps that's selfishly because it works with pale skins like mine, or perhaps it's because that electric tomato red is everywhere at the moment. Either way, it belongs on all of our faces all of the time.
Liya's Pure Red is designed for her lovely chocolate skin tone, but would work equally well on most skins because it has a neutral balance of pink and blue. Give it a swatch to see if this is the one for you.
Finally, Eva's Pure Red has an orangey brick undertone, which I think is gloriously autumnal. If you are one of those lucky folks with a yellower skin tone, get this on your face at once!
These are available now, €11.99 and splendiferous.
What do you think? Have you got your eye on any of these? Tell us in the comments.
Advertised