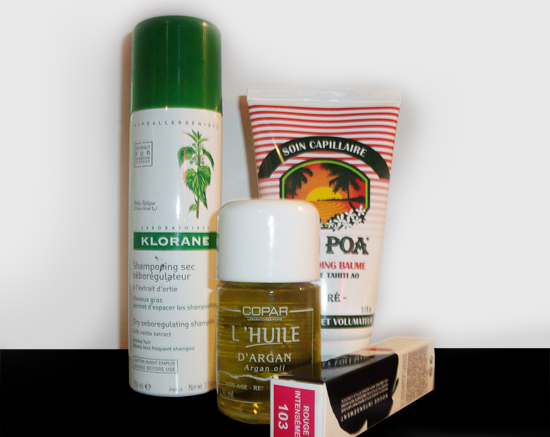 Crap pic alert!
Yeah, it's my dirty mind, but anytime I'm in Paris and I see a Monoprix, well, I get the sniggers.
Anyway, as I think I may have mentioned, I was in France's capital late last week for a fantastic Lancome bloggers event, which I'll be telling you lots more about soon - pix need to be dowloaded off my camera and tales of fantasticness need to be composed. Such visual poetry takes time, ladies.
No trip to Paris is ever complete though without a visit to some of its legions of beauty boutiques and shops. Even the humblest pharmacy in France carries an enviable selection of products and while I strolled up and down the rue Saint-Honoré, dallied by the exclusive beauty edit available at Colette, sniffed and smiled at Guerlain and glanced in the windows of Fragonard, it was to Monoprix I went for low-cost bits and bobs.
Advertised
A bit like Heatons-meets-Debenhams-meets-Penneys, Monoprix stores have a few beauty counters and skincare stands, stocking pharmacy brands like Bourjois and L'Oreal Paris, as well as some not so familiar to us.  I made a beeline for Klorane, where I bagged a can of their apparently excellent dry shampoo for €8.74. Next stop was a shelf on which lurked some Hei Poa products, which are pretty damn spendy for us Irishers to get our paws on. I picked up a Shampooing Baume with mono de Tahiti oil for the wee price tag of €7.15. Not *quite* sure how to use it yet, but I'll work it out.  Oh you bet I will.
On another shelf stood some oils like sweet almond and carrot, but I honed in on a 50ml jar of Argan oil. The price? Eh, €5.95. Can you believe it? This is an excellent hydrator that I'll use added to creams or neat to help my skin survive the winter, and I can't believe I got it for under six quid.
Lastly, I thought I'd get a little colour, and opted for a really great lipstick from a brand called Rouge Baiser. The lipstick is Rouge Intensement 103 and is a delicious, deep fuschia with a satin finish and whopping amounts of pigment. Love it, even though it was the most expensive of my purchases at €14.90.
The total? I spent €36.74 and I  have two haircare products, a great lipstick and some winter skincare. Could Ireland compete for the price? Hmm, something tells me not.