 Even at the beginning of the summery spell we're having, I was already feeling pretty done in. The postman interrupted my futile attempt at cooling down (pressing myself against the kitchen tiles and sobbing) but all was forgiven when I had a peek in the parcel. Three huge bottles of the Philosophy shampoo, shower gel and bubble bath combinations - Mimosa, Melon Daiquiri and Señorita Margarita.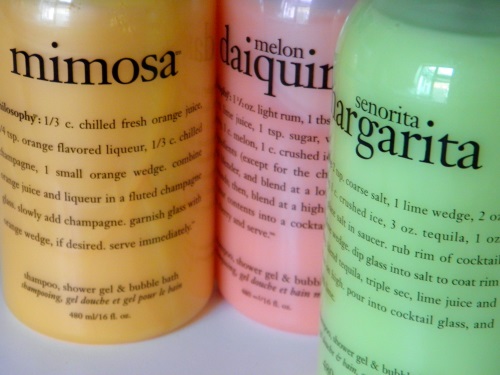 Simple classy packaging teamed with pretty bright colours make 'em pretty easy on the eye and I can't begin to stress how gorgeous their respective fragrances are. Mimosa is sweet and fruity with a healthy citrus kick.  Senorita Margarita is super sharp and refreshing, a winner for quick morning showers when you need something to blow the cobwebs off.  Melon Daiquiri is sort of similar to Snow Fairy, the much coveted but limited edition showel gel by Lush.  Snow Fairy is too sickly sugary for me so I'm happy to report that the Philosophy option is saved by the melon note.
Every one of them lathered well and sent sweet cocktail fumes around my house, as well as lingering on my skin for the coming hours. If you're a fan of very delicate scents then I'll have to direct you away, these are for fans of scents that pack a punch and them alone.
Advertised
Its consistency is a wee bit thicker than most shower gels; I learned to use only a pinch on my second shower. In terms of how it left my skin, it wasn't super moisturising but it didn't dry me out either. They do say it's an every-day use kinda deal but I'm saving mine for when I actually need some cheering up.
Oh, and on that note - they've also listed the ingredients and instructions for making cocktails on the bottles, a welcome and handy touch.
At  €18.00 quid, they're a bit of a splurge - though I do think the quality and amount you get justifies it. Would I part with my pennies for another bottle? Yes, sir!  Will they replace real cocktails? Will they feck.