 A nude shade is all relative, but does this be the one that suits everyone?
I'm not a huge fan of nude lipsticks, mostly because I don't have much lip to speak of. I mean, they're not invisible, but more than one person has suggested I get lip fillers. (I won't, thanks, until they actually start to invert into my mouth.) Because of this, I tend to wear bright lipsticks, and because I wear bright lipsticks, I look weird when I don't, like a person who always wears glasses looks when they suddenly don't.
Nude lipsticks are fashionable again, thanks in part to Kylie Jenner who has the smackers to wear them. Her eponymous lip kit collection is full of nude shades; there is literally one for everyone in the audience. Or two, or three. Nude lipsticks don't necessarily have to match the exact colour of your lips. Going one shade down will give you that 1960s Twiggy look and a tone up will give you extra emphasis. It's still a hard look to pull off, though, and there's always the possibility that you'll end up looking like you forgot to put a colour on over your foundation, despite your hours of priming and lining.
Pinterest's favourite nude lip may be your beauty knight in matte armour. Allure describes it as being a "your lips but better shade", and sure isn't that the nude lip dream? So what it is, and where can you get it?
It's NYX Soft Matte Lip Cream in London and you can snap it up in Arnotts.
Advertised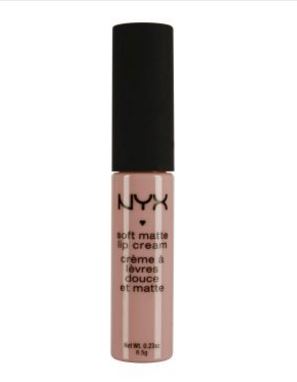 It has been repinned thousands of times, which means it's certainly not crap. It also could mean that women of all skin tones have been checking it out, making it all the more desirable. We've tried NYX's soft matte lip line before, and the texture and finish really is impressive, and it gives a lot of bang for it's cut-price buck.