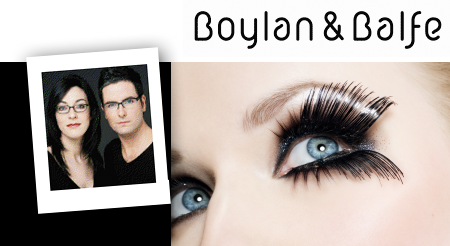 The lovely Ellie Balfe from makeup artist duo Boylan and Balfe (the other half being the fabulous Ken Boylan) got in touch to tell us about a whip-smart idea the pair are working on for Christmas.
Not only have they recently moved into a swanky new makeup studio on Dublin's Chatham St (off Grafton St) where they teach their Basics and Intensive courses, they've just announced a special group discount scheme whereby the more people that attend, the cheaper it is for all. So get bookin' if you're looking for some tips and tricks on beaut.ieful maquillage - I've tried it - it's a great day. The new premises means that they're now also available for the first time for makeup appointments - brilliant for big nights out and all manner of times when you need a bit of extra help in the prettifying department.
And right now,  Ken and Ellie are available to do makeup in your office for your Christmas party. Get a gang together and they'll hot-foot it to your office and set up for the day of your event  - or you can go to them if that suits better. A minimum of 5 people is the order of the day, and it'll set you back €50 a pop. They can even arrange to have a hairdresser on hand for blowdries.
Advertised
And sure you know there's more, don't you? Yup - mention us when you book, and Ellie says, "we'll do false lashes for FREE for every Beaut.ie that books in!" Hurrah!
For queries and appointments call Ken on 087 2381212 or Ellie on 087 7487277, and for the low-down on courses visit www.boylanandbalfe.com