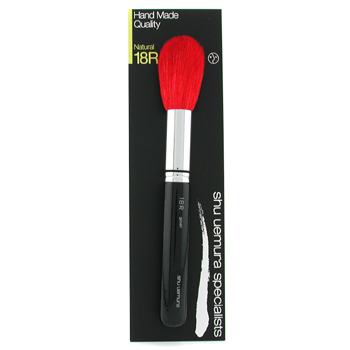 Now, I've counted mine, and it's a shocker - I have about 56 brushes, no joke. But while you really don't need that many, it is kind of hard to know just what is a daycent amount of brushes.
If you want to go down the real makeup artist route of properly shaded eyes, foundation applied with a brush, separate bronzing and blush brushes, kabuki brushes for buffing on minerals etc, then you could easily end up with 14 or 15. But to get started, a good kit of about 5 brushes is perfectly adequate until you get a few more quid and can add to it.
This is what I reckon are the complete bare bones essentials and I'm even leaving out a foundation brush here:
Advertised
Powder brush
Blusher / bronzer brush (I like an angled one, personal like)
3 eyeshadow brushes for proper, pro eyes:

a large blending brush
an eye contour brush
a liner brush
Add to this basic set with a few more essentials - a good foundation brush really is a great tool to have and will add polish to evening makeup; an angled brow brush; a concealer brush; lip brush (if you're a lipstick fan) and a separate bronzing brush would all be great to have too. I have brushes I never use - like fiddly ones for combing brows and lashes - I'm sure lots of people love them but they do nothing for me! I also have about 3 liner brushes, with different sized heads and whatnot, and that seems to satisfy all my lining needs.
And good brands? I love my MAC brushes, I have several great Stila ones, a Smashbox set which is awesome and a whole Boylan and Balfe kit which gets a huge amount of use. Oh, not forgetting a small Bobbi Brown set too. So, I rate all those, but would dearly love some brushes by the wonder that is Shu Uemura, of course. Strawberrynet has a great selection of Shu brushes right now - but they're expensive - think €46.50 for their Kolinsky lip brush. Eek! Better value are the Stila brushes, with good discounts, so take a gander.
And on a final note regarding price, we had a tip from reader Diz the other day, who reckons "€20 for a brush is taking the mickey". She continued, "I took myself to the art shop, bought an angled brush for €6 and honestly can't tell the difference. It works a treat", is her sage advice. And it's probably not bad advice at all for a liner brush, but you may be hard pressed to find proper brushes you can use for shadow and powder in an art shop, so investing in those would be a good idea.