 These rosy hand and foot masks by Seoulista are an absolute treat. We love them because they are just so practical.
It's coming to that time of year again when our crusty feet will start appearing. Open-toed sandals call for well-kept tootsies. And that's the precise reason why I love these masks so much. Because I have a busy life, I love anything that allows me to multi-task. I know there are other ladies out there who love to take care of themselves but don't have much time to spare doing it.  Seoulista Rosy Hands and Rosy Toes masks were designed with multi-tasking in mind.
They heal and hydrate your skin. At the same time, Vitamin C brightens your skin and AHAs are giving your paws a mini peel. Bulgarian Rose Oil gives them their divine scent and heals your skin, nails and cuticles. Basically, they do all kinds of good things to your hand and feet.
I popped these masks on in seconds, blow dried my hair, cleaned the kitchen and got half an hours work done on my laptop. That, for me, is the dream.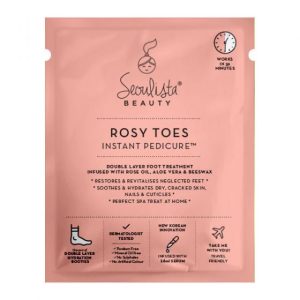 Advertised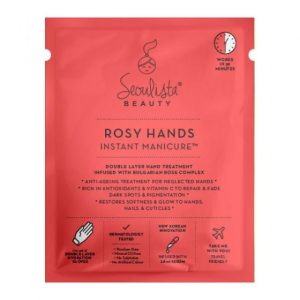 But that's not all; they can be used to restore nails after gel manicures or long-lasting polishes. You can also use them to lift a dodgy tan job. So if you have streaky tan on your hands and feet, which I nearly always do, you can wear the mask overnight to help lift the excess tan.
Putting the gloves and booties on is a weird experience but it's not unpleasant. There was something about putting my foot in a bag of serum that gave me the heebie-jeebies. But when I put my feet in, it actually didn't feel that weird at all. They have a little sticky tag to secure them at your ankle so they are pretty comfy. It says to leave the gloves and booties on for 30 minutes. I left the feet on for about an hour and the hands for half an hour. My neglected hand and foot skin felt absolutely divine after it.
I was so impressed that the glove is made so that you can type and use your touch-screen phone while wearing them. That is just genius. I definitely wouldn't be a regular user of these if I was hand-less for 30 minutes while they worked.
Advertised
Do you love to relax in front of the TV with masks on or are you a multi-tasker like me?
For more on mask brand Seoulista, see Jennifer Rock aka The Skin Nerd's advice on prepping for a night on the tiles.