 When you reach your thirties, your skincare inevitably has to change. Beauty Ed Aisling has started using these seven products in her new home skin routine.
Our Beauty Editor Aisling is a woman in her thirties, and for her curiosity and ours, she has embarked on a skin journey to make sense of her changing skin. In last week's column, she decided that a skin peel was the next step after her initial consultation, where she learned about the skincare ingredients women in their thirties should use.  Today, she details how her home skin routine works for her.
What I have learned about skin over the last few years is that it takes the combination of regular professional facials and consistency in your home skin routine to really get your skin to a really good place.
Having visited the skincare specialist Valerie at River Medical, I was learning all kinds of things about my skin. But while the skin peels and treatments will get your skin to where it should be, the home care will keep it there. Home care products are so important when you are embarking on a skin journey, and committing to the aftercare is essential.
Valerie explained what products I would need, why and when and how to use them. Initially, I was concerned that there seemed to be a huge amount of product to apply. I was worried that because my skin is so oily that it would be complete product overload, but I was willing to give it a try. River Medical use AlumierMD products, so they are what I have listed here.
Purifying Gel Cleanser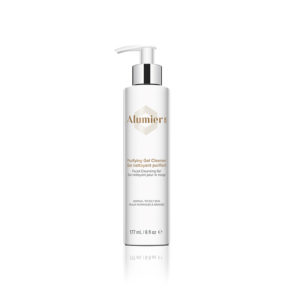 Purifying Gel Cleanser
I use a 1/4 pump of this cleanser at night time only. It is a PH Balanced foaming cleanser which cleans the skin from oil yet keeps it hydrated. It's a happy balance of your skin feeling oil-free and clean yet hydrated which is a hard balance to find.
AHA Renewal Serum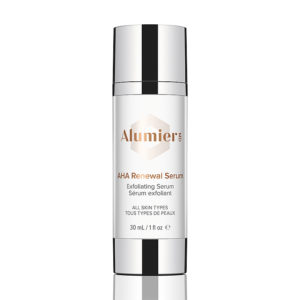 AHA Renewal Serum
The AHA Renewal Serum is to be used in the morning after cleansing and before moisturising. It's an exfoliating serum, so it reduces the appearance of fine lines and wrinkles, brightens the skin, enhances cellular renewal. It contains Hyaluronic Acid and B5 to increase hydration in the skin.
Retinol Resurfacing Serum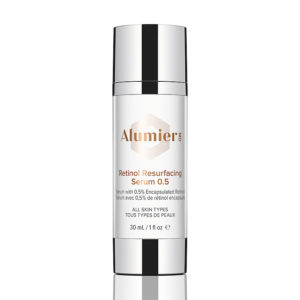 Retinol Resurfacing Serum 0.5 
Retinol is next which is great, because this is a product that my skin most definitely loves. Vitamin A is amazing for your skin. I apply this at night time to boost collagen production and reduce the appearance of wrinkles. It's supposed to improve texture and tone, minimising pores, reducing hyperpigmentation and dark spots. It's great for breakouts and acne scarring.
Ultimate Boost Serum
Advertised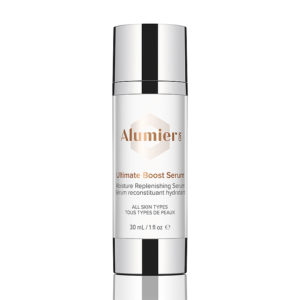 Ultimate Boost Serum 
This is a powerful antioxidant that stimulates collagen and elastin. It helps to improve the density of the skin and neutralise free radicles protecting the skin from future damage caused by the sun and pollution. I use one pump in the morning after the AHA Renewal Serum.
Mattifying Serum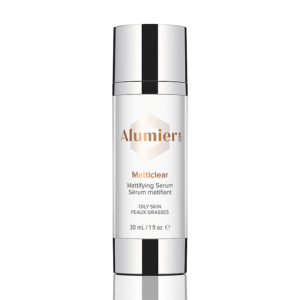 Matticlear Mattifying Serum
This serum is specifically designed for oily skin types. It's lightweight and oil absorbing and helps to refine the skin texture, reduce shine and keep the oil at bay. This is also to be used in the morning, and one pump is enough.
Mattifying Moisturiser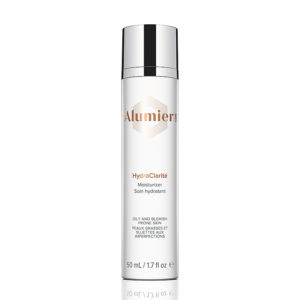 HydraClarite
This is moisturiser has been specifically formulated for oily and blemish prone skin types. It's non-comedogenic and rich in antioxidants. I use this in the evening only as I find the SPF enough for daytime and, because my skin is oily, less product is more.
SPF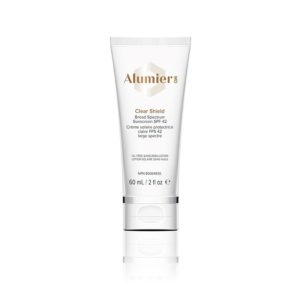 Clear Shield Broad Spectrum SPF 42 
Last, but not least, is the SPF 42. Clear Shield, again, is lightweight and non-comedogenic so for oily skin types, it's a great option. It protects against harmful UVA and UVB rays and soothes and relieves redness. It's fast drying and non-oily so it can be worn under makeup. This is applied daily in the morning only.
What I found with this system was that even though there seems to be loads of products to apply, the products are so lightweight that when you apply them, they just disolve into your skin. They don't feel overpowering or sticky and your makeup goes on well.
The AHA was slightly tingly when I applied it but not in an uncomfortable way. However, when you put the retinol over the top, you can't feel a thing. All the other products just dissolve into the skin, and you would hardly know you have even applied them.
Advertised
I've been using these products for nearly a month now, and I definitely have noticed a huge reduction in breakouts, my pores are tighter, and skin tone appears to be more even. My hydration levels are improving, and I find that my makeup is going on a lot smoother.
Have you noticed your skin changing as you get older? Have you thought about changing your skincare routine?