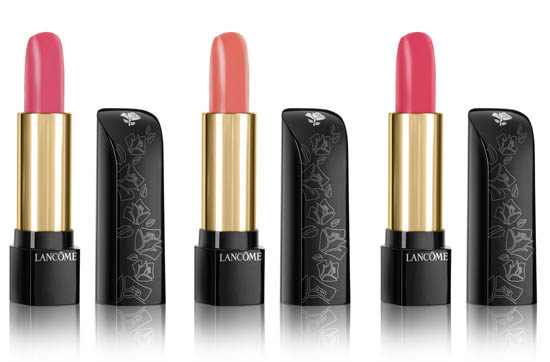 This is shaping up to be quite a lipsticky week: on Monday we checked out Chanel's new Rouge Coco Shine launch and today it's the turn of Lancome, which is treating us to a brand new suite of pout perfectors in the shape of L'Absolu Nu. Similarly to Chanel's new bullets and Poppy King's foray for No7, these deliver a sheer, glossy result.
Now, there's a lot of stuff in the press release about these fellers releasing inner light and all manner of shenanigans but basically the deal with L'Absolu Nu is that there's the same light-reflecting technology in there as there is in Teint Miracle foundation.  Lancome tends to flavour its lipsticks with extra benefits - the L'Absolou Rouge ones contain Pro-Xylane, an anti-ageing technology, for example.
That's grand and all, but superficially, all I really care about is if they a) look pretty and b) don't turn my lips into a walnut.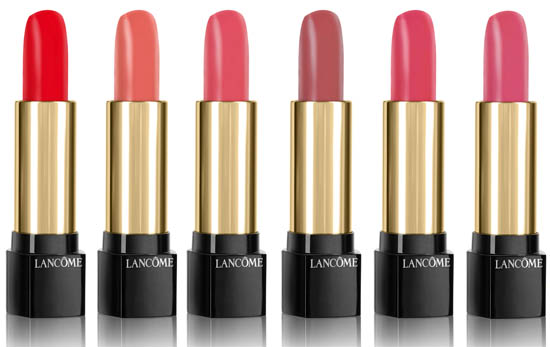 So lets check out the colours. Good, I see lots of nice juicy shades.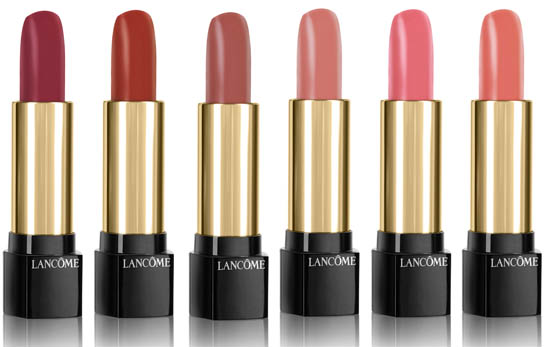 And some more berrys and beigey colours. Something for everyone, so.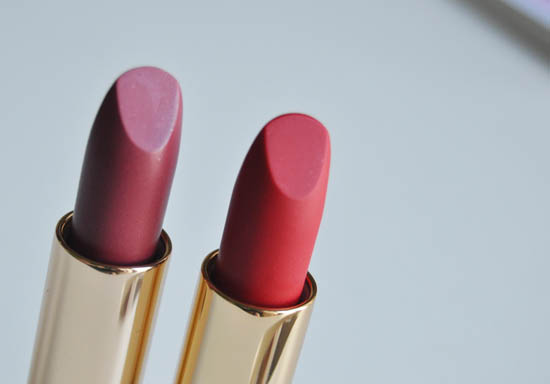 Advertised
A pair of L'Absolu Nu-bies came into my possession courtesy of Lancome so naturally, I checked 'em out. Above you're looking at 304, a soft rose shade, and 102, a reddish coral. Now, they don't *look* very glossy, do they? Worry not: Lancome lipsticks often have a bloom on them to begin with (the same thing happened with Berry Rose from the Ultra Lavande collection) which makes the colour seem dull; the reality is very different.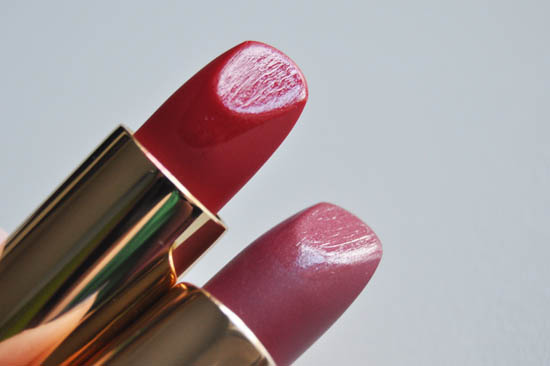 Et voila: you can see that post-swatching they're really lovely and shiny.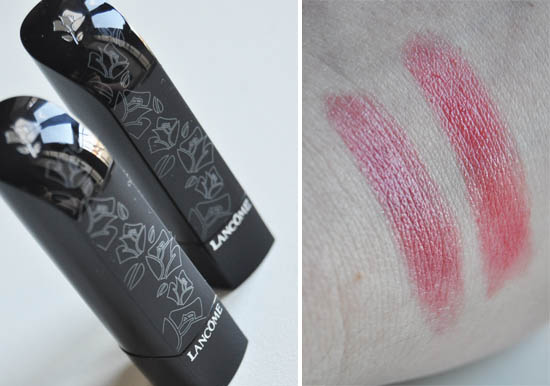 Here's the very pretty packaging, which has a smart magnetised closure that fastens with a satisfying 'click'. And here are the swatches of 304 (left) and 102 (right). These are quite thickly applied and as they're sheer, do note that they will look different on you depending on the amount of pigmentation in your lips.
Me? I've been wearing that pinky coral a lot this week and really liking it. It's a very unobtrusive lipstick both in application and wear, and that's not even remotely a criticism: sometimes you just want hassle-free, easy to wear products, and these seem to fit the bill. You? If you like a full coverage finish that's matte and retro, you'll be nonplussed by these, so take note.
The finish is semi-glossy and gives a noticeable wash of  sheer colour on my lips. Sure, it's not particularly long-wearing but neither is it drying, and all-in-all, these are very springtime-appropriate lipsticks indeed. Great for work, casual wear or weekends, you're not going to have to worry about feathering, uneven wear or feel anxious about topups. They feel nicely conditioning to boot.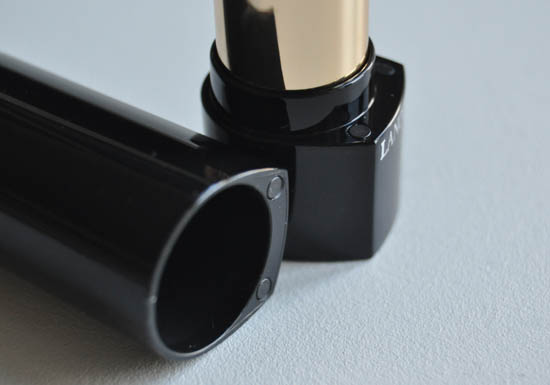 Advertised
And here's a last shot of the closure, which I like: matching magnets ensure that the lids snap down satisfyingly well. In fact, if you place the lid on the barrel it almost slides itself down, such is the power of attraction. Speaking of which, I'm powerfully attracted to some of the pinks in the lineup and intend to check them out the next time I happen to find myself sauntering past a Lancome counter.
And you? Will you be taking a look?