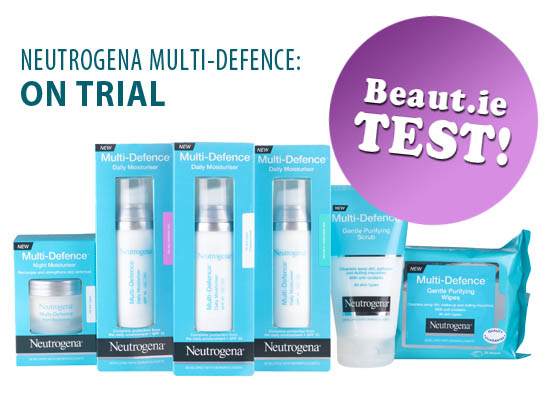 Oh yes oh yes, the one thing we know you lot like more than a competition is the chance to trial some products. So that's what the good peeps at Neutrogena have asked us to do with the brand spankin' new Multi Defence range.
We've taken a look at it on the site already so here's a quick re-cap: designed to protect skin not just against UV rays and dehydration, these products are multitaskin' wonders that battle all sorts of environmental aggressors. Skin is shielded from cold, heat, wind, pollution and smoke at really affordable prices - everything's under a tenner.
Particularly good for 20-somethings upwards, there are products for three concerns:
All skintypes (choose this if you're the lucky sort who has no particular issues at all)
Normal to combination (if you have a of a couple of things, like a congested chin and dry cheeks going on, choose this)
Dry and sensitive (does what it says on the tin)
We've got an opportunity for 30 of you to try the products! We've got 10 kits for all skintypes, 10 for normal to combo and a further 10 for dry and sensitive. Best of all, you get to leave your honest feedback on the blog in a few weeks time to tell us what you thought of the range too.
Advertised
So, would you like go give Neutrogena Multi Defence a go?  Please read the terms and conditions carefully, and then follow the entry instructions below.
T&Cs:
You must be over 18 to particpate
You MUST commit to trying and using your products yourself  -  we fully expect your feedback on the products you have tested. You may not give your products to someone else to test for you
Equally, you must commit to leaving feedback on a blog post which we will post on Beaut.ie in about three week's time.  You'll be notified ahead of time on that so you can prepare your thoughts
These products will be posted, so it's entirely likely that you'll have to go to the post office to collect them. Do be aware of that before you enter
We'll choose our 30 testers at random from the entries we receive
TO APPLY
APPLICATIONS CLOSED!

Advertised
What product type would suit your skin?  Choose from the following three: All skintypes, Normal to combination or Dry and sensitive

Now - THE SINGLE MOST IMPORTANT BIT! Send us an email to

[email protected]

with ONE of the following three subject lines:  'Neutrogena all'/'Neutrogena normal combo'/'Neutrogena dry sensitive'  in the subject line, depending on your preference

Don't forget to give us your full name and postal address too

Get your entries in before 12pm tomorrow, Tuesday 22nd February 2010

Did you read point 2 really carefully?