 We're on a teeth-straightening journey in the quest for celebrity chompers. This is what happens after the initial consultation
I'm always so interested in the difference teeth can make to a person's face. When you see the likes of the X Factor contestants going from the start of their singing journey to making it big, one of the main things you notice is their bright and shiny perfect teeth. I always feel it makes them go from an average Joe Soap to a celebrity (in looks anyway...).
A few months ago, I wrote about my first steps towards 'celebrity teeth' with Clearbraces.ie. After my extensive consultation in Dental Options in Clane*, I knew I was in the right place. Having seen the amazing job they did on Kathryn Thomas, Pippa O'Connor, Suzanne Jackson and Brian Ormond, I had full faith in their perfectionism and attention to detail.
The next stage in my dental journey was an appointment with Claire, the hygienist. She couldn't stress enough just how important is to maintain good hygiene during treatment. She mentioned that some people even notice their teeth get whiter during treatment because they are taking better care and looking after them. Claire also converted me into using an electric toothbrush. I was never a fan before, but after she explained that the beeps and noises it makes are all to do with the length of time you should be brushing specific areas, it all made sense and now I can't live without one. 
First Fit
When it came to the first fit, I wasn't quite sure what to expect. I was pleasantly surprised when it took only about ten minutes and was totally pain-free. The dentist took seconds to attach (what look like) tiny white dots on to my teeth and then the clear braces simply snapped onto them. These "attachments" are placed on individual teeth to help with the movement of the teeth (this is shown during the ClinCheck appointment I mentioned in my first post in this series).
That was it! I honestly couldn't believe how easy it was. I had friends growing up who had train-tracks, and the stories I heard of the process and pain of having them on was enough to put me off for life. This was nothing like that.
Advertised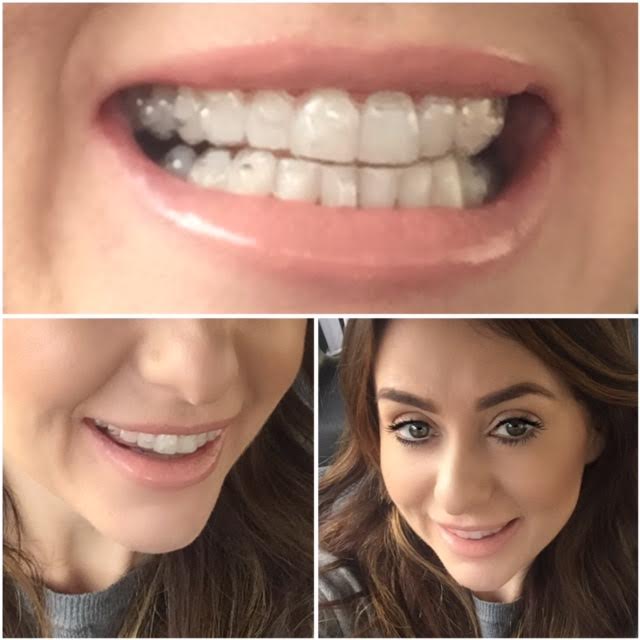 After that, it was up to me. I was told to wear the aligners 22 hours a day and only take them out for eating and drinking, except for water, then I could leave them in. I was shown how to remove them with a little attachment provided and given "chewies" to chew on that help mould them right in to my teeth for when I put them back in after eating.
To make things even easier for me, the lovely team at the front desk gave me a welcome pack with a cleaning agent for the aligner and an information leaflet to answer all my question
I'm not surprised celebrities from all over the world are raving about Invisalign. You don't notice them at all.
If you have been thinking of investing in celebrity teeth, you're in luck; Invisalign has a very special offer for you.
DISCOUNT CODE: Mention Beaut.ie when booking and avail of €250 Euro off Invisalign
Free dental examination when you sign up to Invisalign to ensure the teeth are in good health before starting treatment.
Price plans available to make it more affordable. Up to 20% tax deductible – this can amount to around €700/€800  off the treatment.
Advertised
*I went to the surgery in Clane, Co. Kildare, but there are eight providers in Ireland, in Blackrock, Swords and Grafton Street in Dublin and in Limerick, Galway, Cork, Kilkenny and Wicklow.