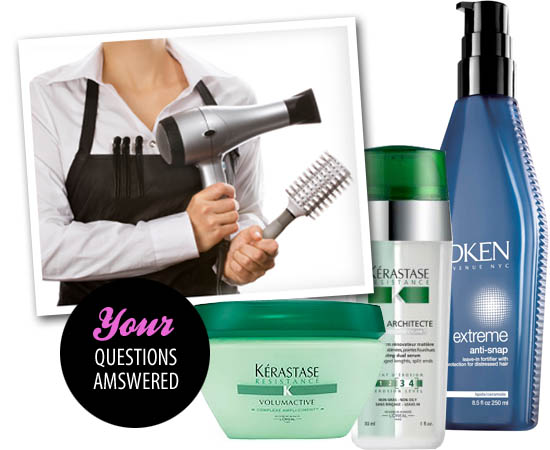 Waaaay back in the summer you got to put your questions to Peter Mark's educator Michael Corcoran, and it's entirely my fault it's taken so long to get them back on the site. Big thanks to Michael - he's put his thinking cap on for 10 of you, and his replies are below.  Did he get to yours? Have a look below and enjoy!
I think I've overdone it on the highlighting over the years. In natural light the blonde looks ok, but in pictures it looks bright yellow or orange! I always ask for ash colour highlights, but I'd like to darken it up a bit – what should I ask for when i next go to the hairdressers?
I would discuss the possibility of an ashen toner over your highlights with your hairdresser as this will help darken and neutralise any yellow or orange that may be present.  Just note that most toners will require an allergy test 48 hours prior to the application.
I really want to go a bit lighter – just to a lighter brown, but what does the stripping out process do to your hair? Would I be better going for a half head of highlights rather than an all over colour to protect the condition?
Please help!
No, long term highlights would not be the best option as you will only lighten up to 50% of your hair, you will need to cleanse (strip) your hair which, providing your hair is in good condition to start off with, shouldn't really effect the condition apart from slight drying as technically you are putting a chemical on your hair. A good home care programme will help with any drying. I would recommend the Kerastase Resistance range.
Any tips on improving the condition of hair so it can be coloured would be much appreciated
Regular haircuts and a good home care regime will help improve the condition and prepare the hair for colour. A good home care programme should consist of shampoo, conditioner, treatments and pre-blowdrying heat protectors. I would recommend the Redken Extreme Range to help get your hair ready.
I've got long curly highlighted blonde hair. Since having a baby I've noticed that the roots appear much darker than before and the contrast between the roots and the scalp hair is more obvious. I find I have to go more frequently to the hairdresser for touch ups
It sounds like you have a build up of colour on your mid lengths and ends which is making your roots appear darker. I would discuss with your hairdresser the possibility of adding more lowlights through your hair to help your coloured hair blend better with your natural hair. Remember, highlights are only designed to highlight your natural hair, so if more of your hair is coloured than natural then chances are you have too many highlights.
I've naturally red hair, never been coloured. I'm getting a few grey hairs above my ears and at the parting. I don't want to have to colour my whole head, any ideas? It's quite long with layers at the front, so the grey hairs are not long ones! Thanks.
I have two suggestions for you, depending on the amount of colour you want to put in your hair:
Partial colouring (highlights and lowlights) will help with blending the white hairs away but you will not be guaranteed to cover all the white hairs.
Use a gentle quasi permanent colour which lasts approximately 16-to-20 shampoos to help blend all of the white hair. This only has to be applied to the problem areas, a technique that is called masking, remembering an allergy test will be required at least 48 hrs before your colour application. A great product for this is the new Dia Richesse from L'Oreal Professionel which is available at any L'Oreal salon.
I have long browny-blondey hair and a bit of a fringe that's been the same style for years. I can't cope with layers, in fact I'm awful with even a blow dryer. It's halfway between straight and curly and I can't do anything with it. Even when I get it styled it only lasts for about two weeks and the style just falls away with the weight and length of my hair and I'm back to square one.  Any styles that might suit me? I would love it to be fab and also to last!
Any haircut with length and height will suit your round face shape as this will help to elongate your face giving the illusion of being oval which as hairdressers is always our objective. Unfortunately for you, the only way to increase height is by layering, so my suggestion would be to discuss with your hairdresser the possibility of a blowdrying lesson on how to best handle your layers at home.
I have had a run in (a bad one) with a thinning scissors and my layers have been cut way too short, my hair looks dreadful now. Unfortunately my new style is closer to a mullet than I would like but I think I may need to wait for it just to grow out. In general though is there anything that can be done to help the appearance of hair that has been thinned out too much? And are there any guidelines on how often hair should be thinned out? Every cut or every second cut? Or not at all maybe? Thanks.
Advertised
My suggestion for you is, if you shorten the length of your hair this will help bridge the gap between your length and layers loosing the "mullet" look. In general thinning of the hair  will depend on the texture and density of your hair so when consulting with your hairdresser this should be taken into consideration.
I haven't got my bob cut since Patrick's weekend. Are there any styles you can suggest when you want to grow out your hair, getting a bit sick of my scruffy hair at the moment but don't want to approach my hairdresser yet (until I have a plan) in case she goes scissor happy and I'm back to square one.
There are many fashionable mid length haircuts around at the moment for example Alexa Chung and Pixie Lott. If you research and find pictures of the look you would like to create, bring them to your hairdresser and use them together to help work out the best path for you to go down. Visual aids like magazines and photos are a great way to show your hairdresser what you are looking for but remember the style may need to be altered for different hair types and face shapes.
I have blonde highlighted hair that's very fine. I love when it's long and layered but when it goes much beyond my shoulders it gets very scraggy and unhealthy looking. Is there any way I can grow it longer without it looking so terrible? Also my hair is extremely knotty. Any remedies?
Good, regular haircuts every six-to-eight weeks will help reduce the unhealthy looking ends also a fantastic product to help reduce and repair split ends is Kerastase Fibre Architecte.
Advertised
I had radiotherapy on my throat before Christmas and I don't know if it's anything to do with it, but my scalp has gone very dry and now falls off me like snow. I have tried everything but nothing works, if I don't wash it every day it becomes quite itchy and drives me up the wall
I would recommend consulting with your doctor or pharmacist about this issue and you may need a more medicated shampoo to help with your scalp.