 Our guest writer Jessie (aka mscooksalot) has loved cooking and exploring recipes for as long as she can remember. Passionate about real food, she wants to know what's in it and where it comes from.  She believes that food is one of the greatest pleasures in life and can transform your experiences from the forgettable to the sublime. We asked her to help us kick start a healthy and happy New Year!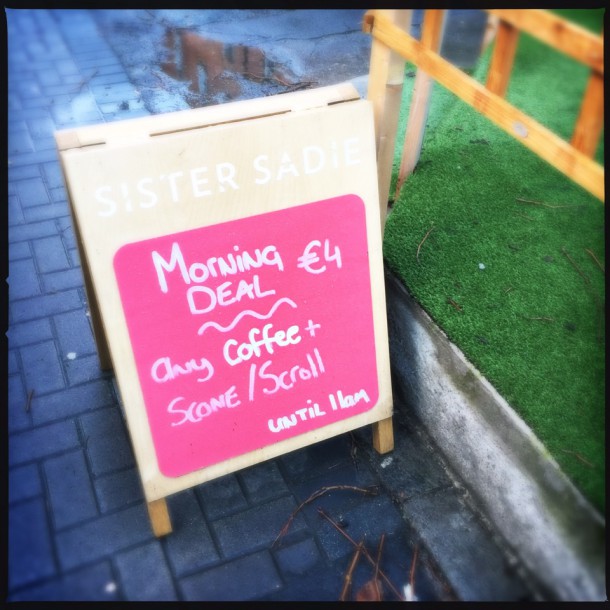 We are half way through January and the miserable weather would test anyone's willpower to stick to their New Year's resolutions. Last week I reviewed Alchemy Juice Co. at BT2 but this week I'm all about the Middle East. See, there is a time and place for light summery salads, but when the wind and rain is coming at you from all directions, only hot, heart-warming food will do.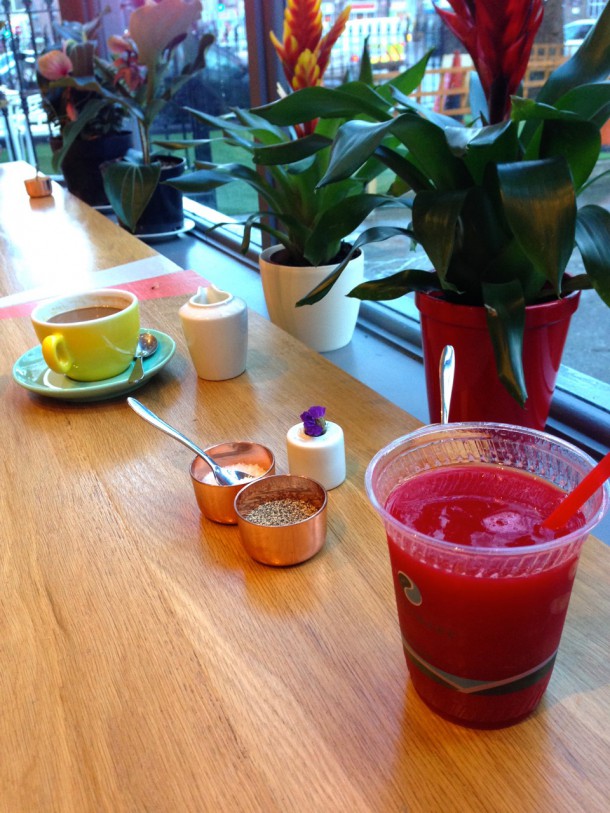 I decided that a trip to Sister Sadie (46, Harrington St., Dublin 8) was in order and somehow convinced Mr. Cooksalot to come along with me. Sister Sadie is run by the same people as Brother Hubbard and Little Brother on Capel St. Their menu is extensive and uses the best quality ingredients from smaller, more artisan food producers with a lot of inspiration from Middle Eastern cuisine.
While you can certainly indulge in less virtuous things like their famous Pulled Pork sandwich or their amazing cakes and pastries, you can also treat yourself to some great vegetarian and vegetable-heavy dishes. Mr.Cooksalot felt a bit cheated when I asked him not to go for a sandwich and he reluctantly ordered the Butterbean, Chorizo and Tomato stew with spinach and chickpeas and a lemon and coriander salsa.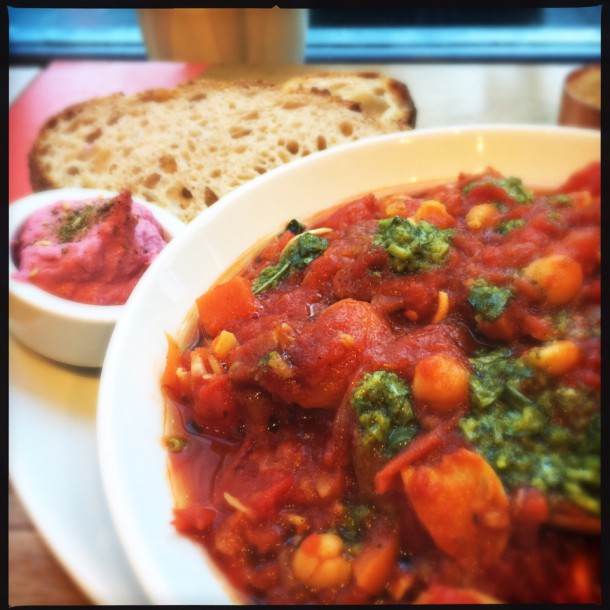 It came served with 2 slices of sourdough and some lovely purple hummus.  He was really impressed with it and practically licked the bowl clean, although he would have liked a bit more chorizo.  He also suggested I get the recipe from the chef but I have a feeling that it is a closely guarded secret!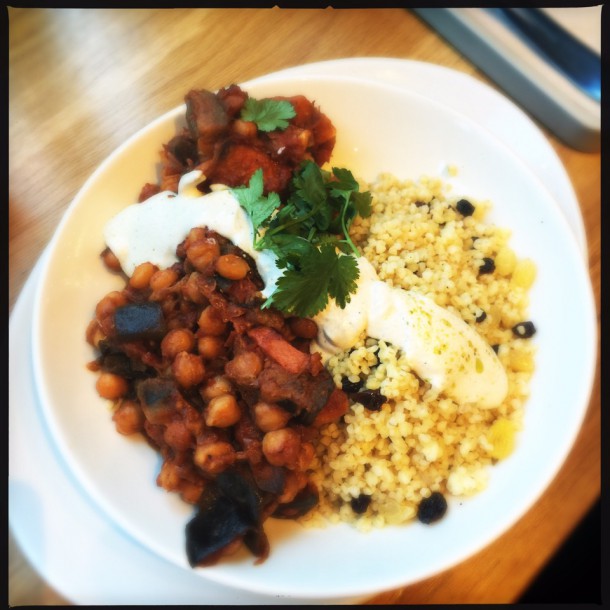 I went for the Vegetable Hotpot, which consisted of a Moroccan "zalouk" (a very thick stew) of roasted aubergine, carrot and chickpeas in a mildly spicy tomato sauce, served with bulgur wheat and a smoky aubergine yogurt. It was equally delicious, although very filling and I struggled to finish it. I don't think I've ever had bulgur wheat before. It's similar to brown rice in texture and it was surprisingly tasty. It's high in fibre but relatively low in calories so I will definitely be trying it out at home soon.
Advertised
The aubergine yogurt was creamy but light and helped to cut through the tomato based sauce. The whole dish was very satisfying and helped me forget the blustery weather outside!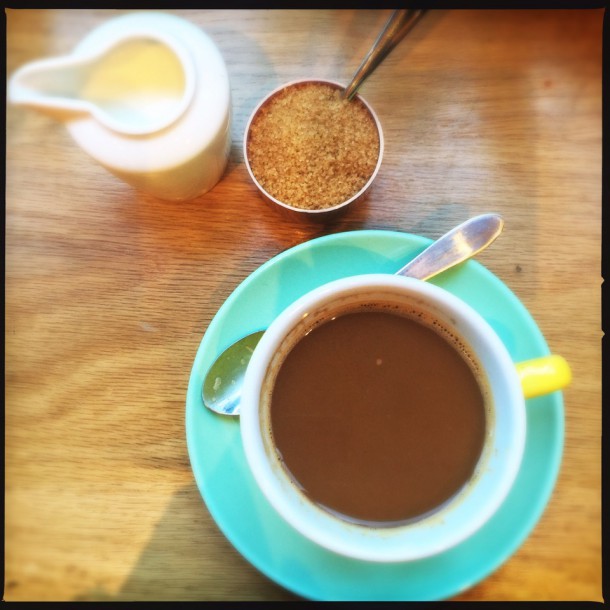 Mr. Cooksalot ordered an Americano and I ordered one of their refreshing raspberry, apple and rose chilled drinks, which really complimented the spices in the stew, as strange as that might sound!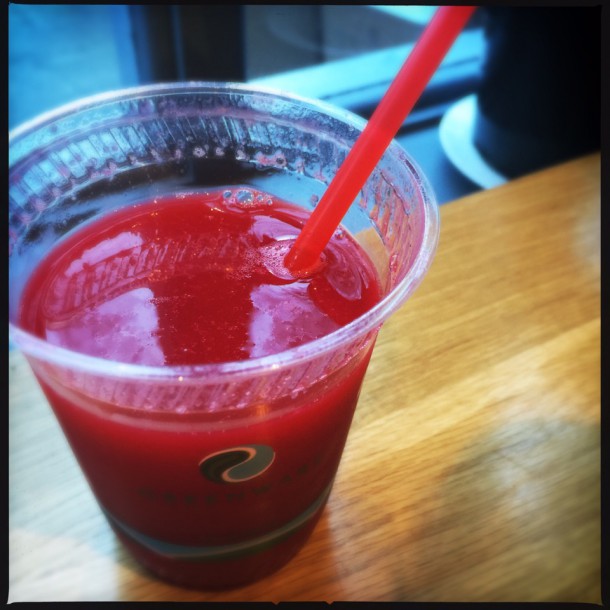 They use organic milk in their teas and coffee - which I know isn't high on everybody's list of priorities but always makes me happy.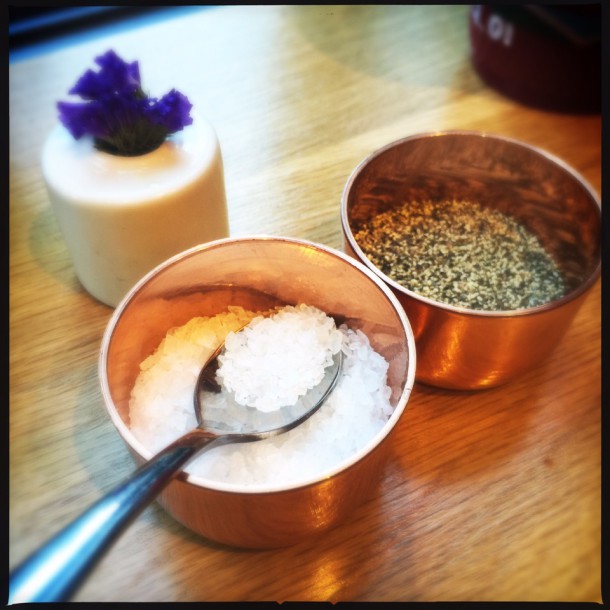 It's probably just as well that I don't live or work closer to Sister Sadie, as I can easily see myself eating here every day. It's not the cheapest option for lunch, but the portions are very generous and I think the quality of the food makes it great value for money. The food is so colourful and nutritious that you can easily stick to any New Year's resolutions or healthy eating plans you may have made without ever feeling deprived.
And if you wanted to "eat the rainbow" as they say, you could do a lot worse than start here
Have you tried the Alchemy Juice Bar and if so, what was your experience? And where is your favourite eatery for healthy snacks or are you a prepare-at-home kind of girl? 
Advertised
If you'd like to read more from Jessie, you can check out her blog here!