 Why spend the big BIG bucks on a designer gown when you have your pick of High Street wedding dresses that will do the job nicely.
Weddings sure have changed over the past few years. Although most of the weddings I've attended recently have been in Catholic churches in Ireland, more options are open for 'untraditional' weddings than ever before. As long as you do the legal part, separately or by a registered celebrant, you can pretty much do what you want when it comes to your wedding. And you can wear what you want. For some brides-to-be, High Street wedding dresses are the perfect option.
The thought of spending over €1000 on a wedding dress sends my high and mighty mode haywire. Even if I could afford it, I couldn't justify it. Most of my married woman friends said their vows in very expensive dresses - and looked fabulous - but when I think of what that excess moolah could have been used for instead...
I don't feel smug that my dress wasn't hugely expensive and that my wedding looked and felt extravagant but wasn't because I know that it can be done. (Hit me up for advice if you're looking for it.) It's just that I've witnessed first-hand people losing the run of themselves when it comes to weddings, and I don't think it's worth it. Your wedding should be one of the best days ever, but it doesn't have to fit the mould - as a bride, neither do you.
The High Street knows that there's a demand for lower budget - but still beautiful - wedding dresses. Here's a selection to suit every style available right now.
Topshop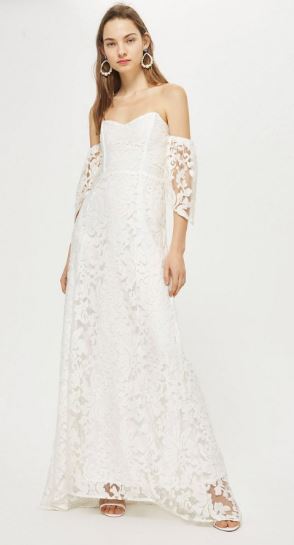 Bardot Bridal Gown by Flynn Skye €360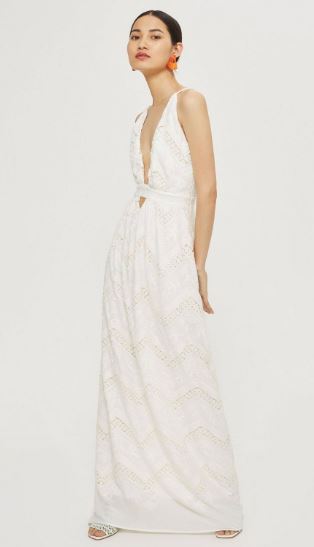 Halter Neck Bridal Gown by Flynn Skye €360
Missguided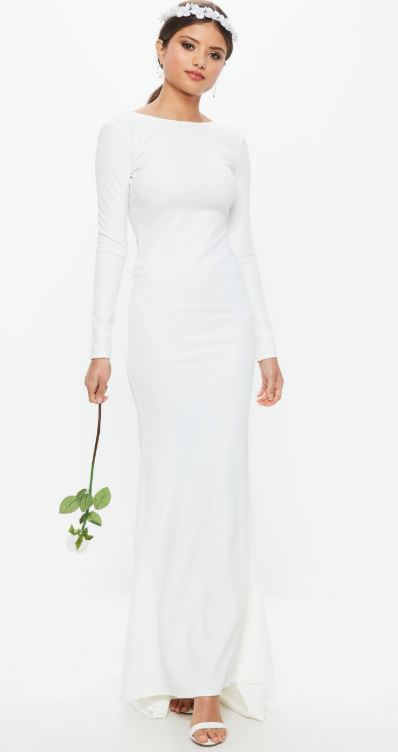 Bridal White Long Sleeve Open Back Fishtail Dress €48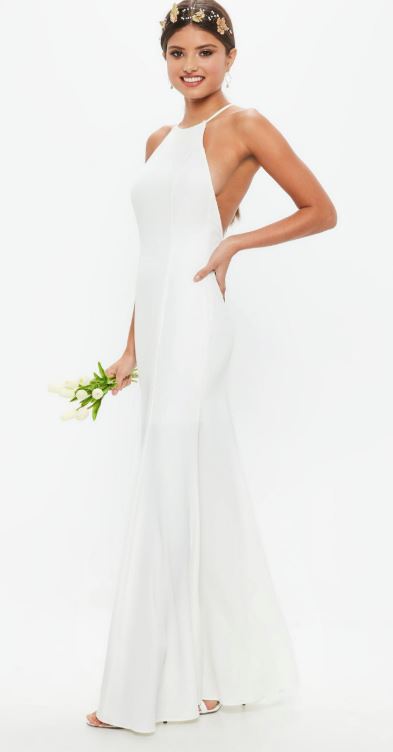 Bridal White Square Neck Cross Back Maxi Dress €33 was €108
Debenhams
Advertised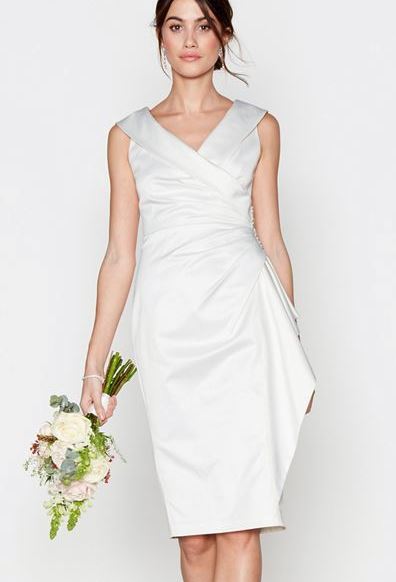 Debut Ivory 'Samantha' Bardot Neck Knee Length Bridal Dress €110 was €220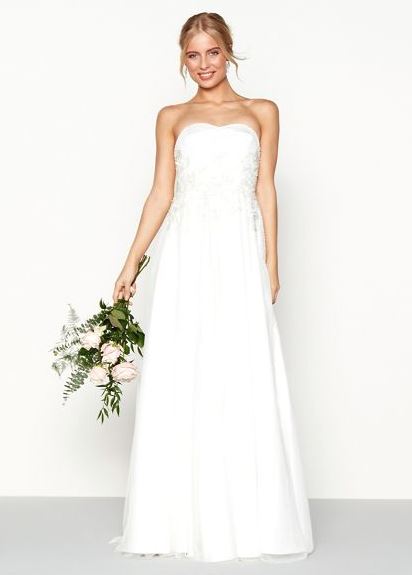 Nine by Savannah Miller Ivory Embellished 'Marilyn' Strapless Bridal Dress €315 was €630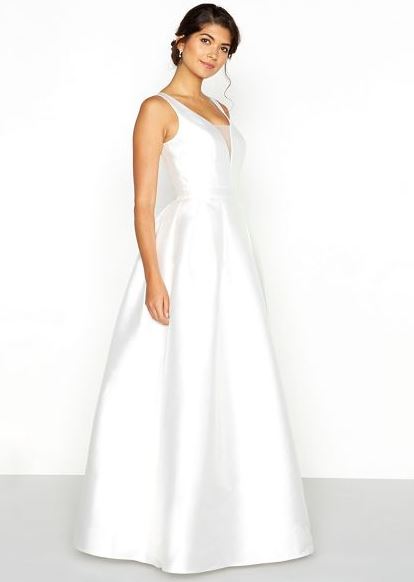 Chi Chi London White Satin 'Marla' V-Neck Full-Length Bridal Dress €120 €96
ASOS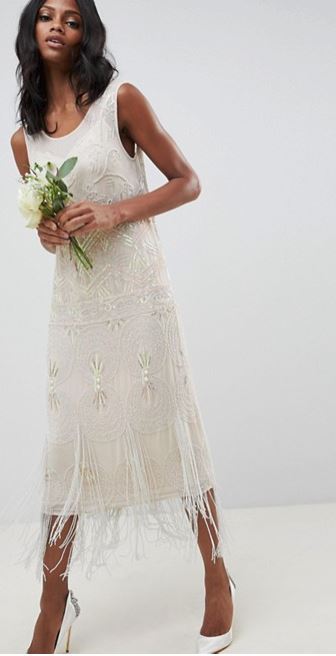 ASOS EDITION Fringe Embellished Midi Wedding Dress €276.50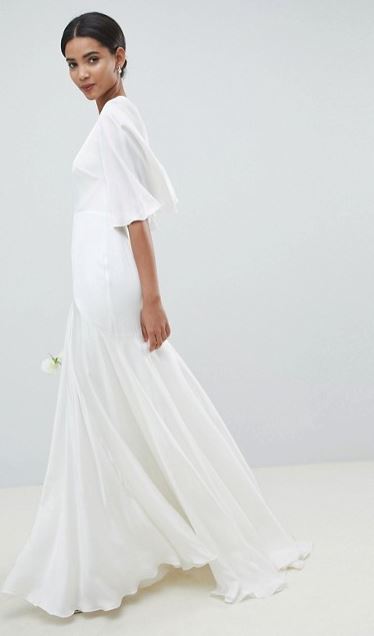 ASOS EDITION Wedding Dress With Open Back And Flutter Sleeve €248.85
H&M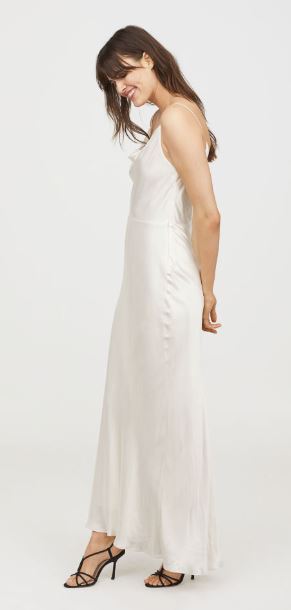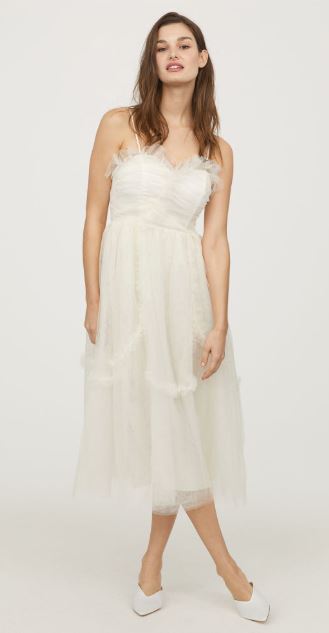 Frill-Trimmed Mesh Dress €73 was €129
Advertised